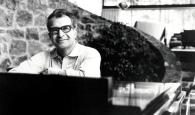 Saratoga 150 Events Also Announced at Spring Board Meeting
Saratoga Springs, N.Y.
- Saratoga Performing Arts Center will pay tribute to jazz legend Dave Brubeck (1920 - 2012) with the installation and dedication of a "star" in its Walk of Fame at the Freihofer's Saratoga Jazz Festival. The iconic American jazz pianist, composer and bandleader who passed away in December at the age of 91, performed at SPAC's jazz festival a record 13 times during his storied career. The date of the star dedication will be announced shortly; the festival is scheduled for Saturday, June 29 and Sunday, June 30 at SPAC. Members of the Brubeck family are expected to attend the ceremony. "Dave Brubeck was one of the most important figures in the history of American jazz and in the history of SPAC's jazz festival," said Marcia J. White, SPAC's President & Executive Director "He performed at our festival a record 13 times, a longstanding partnership which reflects his popularity with our festival audience and his special affection for Saratoga." "The world has lost a true genius as well as an exceptionally kind, decent and compassionate man. He was a 'star' in every sense of the word. It will be our privilege to honor him at this year's jazz festival."  An NEA Jazz Master and Kennedy Center Honoree, Dave Brubeck was one of the first jazz performers to employ and integrate jazz and classical elements. His signature album
Time Out
was the first jazz album to sell a million copies and popularized jazz among a wider audience. Brubeck's last two appearances at SPAC were in 2006 and 2009. The 2006 appearance was an 85
th
birthday celebration tour with the Dave Brubeck Quartet. In conjunction with that milestone, he was honored by the New York State Senate for a lifetime of extraordinary achievements in music. He performed again in 2009 as part of a tour celebrating the 50
th
Anniversary of his groundbreaking album
Time Out
. SPAC's Walk of Fame is a walkway memorializing artists and individuals who have been instrumental in the life and history of the arts center. The walkway currently features stars for Marylou Whitney, Charles Dutoit, George Wein, Chantal Juillet, Philly Dake and Lewis Swyer.
Jane Wait Star Dedication & Saratoga 150
Also announced was the news that Jane Wait of Saratoga Springs will be honored with a Walk of Fame Star at the kick-off event for Saratoga 150 on May 24 at SPAC. Jane and her late husband Newman "Pete" Wait helped lead the effort to found SPAC, spearheading a local feasibility committee charged with formulating the original plans for SPAC. Jane was also the first chair of SPAC's fundraising arm, The Action Council. Jane's leadership of the Council in those first, early years was credited with helping to raise the funds needed to get the new arts center off the ground. "Jane Wait was one of the first to recognize the magnificent potential of locating a world-class performing arts center in Saratoga. She and her husband Pete worked tirelessly in those early days to secure private supporters, raise funds and move the idea forward," said White "She also founded and chaired SPAC's Action Council with Philly Dake, a vital committee whose fundraising mission remains integral to SPAC's future. Jane Wait has been a cherished partner, friend and inspiration to SPAC and the Saratoga Springs community. We look forward to honoring her with a 'star' in our Walk of Fame."  The star dedication ceremony will be the centerpiece of a "Saratoga 150" community-wide celebration on SPAC's lawn on Friday, May 24. The event, the first of five months of festivities commemorating the birth of thoroughbred racing in Saratoga, will feature an array of entertainment and activities including live music, an old-fashioned picnic supper, youth dance groups, storytellers, magicians and clowns, and more. Special features of the event will include a $1,000 grand prize picnic contest and a fireworks finale. SPAC and The Wait Family are also at the heart of a second Saratoga 150 event on Thursday, August 8, this time on SPAC's historic stage. "The Saratoga 150 Fanfare Concert" sponsored by The New York Racing Association, Inc. (NYRA) will feature The Philadelphia Orchestra's performance of
Serenade,
a World Premiere orchestral work by Grammy-winning American composer Richard Danielpour. Commissioned by SPAC and made possible through a generous gift of Saratoga 150 Chair Charles V. Wait and his wife Candace, the premiere is the centerpiece of a spectacular equestrian-themed program which will be led by American conductor Keith Lockhart, famed maestro of the Boston Pops and BBC Concert Orchestras. SPAC will make a final toast to the racing milestone at the 13
th
Annual Saratoga Wine & Food and Fall Ferrari Festival with a special showcase of anniversary wines, new "mixology" events, a culinary pavilion, a "connoisseur's tent" and more.      "Saratoga Race Course has been the crown jewel of the racing world for 150 years and a dynamic force that has helped Saratoga grow into a thriving and culturally rich community," said White. "SPAC is thrilled to have the opportunity to play a key role in these historic festivities."
SPAC Unveils New Website
The board meeting opened with the official unveiling of
SPAC
's new website. The first major upgrade since 2008, the "responsive" website allows for an optimized version of the site to display on any internet-enabled device, including smartphones, tablets, and notebooks. White noted that with the percentage of online visitors accessing SPAC's website via mobile devices up by approximately 120 percent in the past year, the enhanced mobility of the new site will allow SPAC to offer all online visitors a more robust experience. "We are proud to unveil a new design for 'spac.org,' the online home of our world-class venue and our magnificent 2013 Season. With a fresh look and feel, and, most importantly, enhanced functionality across a range of mobile platforms, this new site is an infinitely stronger tool for connecting, promoting and informing the public about our programming and events," said White. "With the start of our season less than two months away, we are right at the point in the year where online traffic spikes upward, making this an ideal time for the website's launch." The responsive website design, created by Lake Placid-based AdWorkshop, was cited as a cost-effective way to achieve mobile accessibility while eliminating the need for the creation of a mobile app, an add-on feature which can cost tens of thousands of dollars. Currently, more than 30 percent of online visitors to
spac.org
are mobile users, a figure which has more than doubled in just 12 months and which is projected to increase dramatically over the next few years as mobile devices overtake notebooks and desktops in sales and usage.
Capital Improvements
The 2013 season will feature a number of modest improvements to the venue. Among items slated for upgrades are the cable trench cover on the floor of the Amphitheatre, which will be replaced with a new, more sound-proof material. The 436-foot long aluminum cable trench cover will be exchanged for an insulated composite decking system. When complete, the upgrade will substantially decrease the noise created by foot traffic through the venue, thereby eliminating a potential distraction at performances. The project is targeted for completion in late spring. Beautification projects and repairs will be ongoing throughout the spring season inside and outside the historic Hall of Springs. Among the improvements on tap are restoration of the exterior doors, replacement of the canvas sheeting on the patio and installation of a first-ever marquee awning at the front entrance of the Hall of Springs. The building is operated year-round as a premier banquet facility and as a restaurant during SPAC's summer season. Tickets and information on SPAC's 2013 Season are available at
spac.org
. Tickets are currently on sale online; Box Office and phone sales begin on Wednesday, May 15.
###