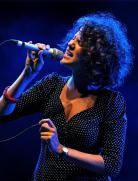 Katonah, N.Y.
- Jazz music will once again fill the Sculpture Garden at the
Katonah Museum of Art
this summer.  Legendary guitarist John Scofield will bring together some of today's brightest talents in the jazz music community to join him in celebrating the seventh season of
Shades of Jazz
. Music lovers of all ages are invited to pack blankets, chairs, and picnic dinners and head to the Museum's Sculpture Garden for summer evenings of great music under the stars. Gates open at 6pm for picnicking. Tickets are $10 for KMA members and $20 for non-members. Admission includes complimentary beer and wine. For more information and to reserve tickets, call (914) 232-9555, ext. 0, or visit
http://www.katonahmuseum.org/
.
The Katonah Museum of Art is located at 134 Jay Street/Route 22 in Katonah.
The season kicks off on Wednesday June 13 with singer
Cyrille Aimée
. Aimée's culturally rich background has supplied her with the driving force of Dominican rhythm and the incredible swing of the French Gypsies. She was a finalist in the prestigious Thelonious Monk Vocal Competition of 2010, performing in front of a jury that included Al Jarreau, Kurt Elling, Dianne Reeves, and Dee Dee Bridgewater. She won both the First and the Public Prizes in the Montreux Jazz Festival Competition in 2007. Aimée has made it into regular rotation on Jonathan Schwartz's radio shows on WNYC and XM Satellite. Of her talent Schwartz says, "She is superb and is one of the greatest scat singers...on the level of Ella. She is ELECTRIFYING! It's as simple as that."  On Wednesday, August 1,
John Scofield
will perform with his trio featuring Bill Stewart and Ben Street (this seems odd - can't you just name all three performers in the trio?).  Scofield's guitar work has influenced jazz since the late 70s and is going strong (his guitar work is "going strong" - ? awkward phrasing) today. Possessor of a very distinctive sound and stylistic diversity, he is a masterful jazz improviser whose music falls somewhere between post-bop, funk-edged jazz, and R & B. From 1982-1985, Scofield toured and recorded with Miles Davis, an experience that placed him firmly in the foreground of jazz consciousness as a player and a composer. Since that time he has prominently led his own groups in the international Jazz scene, and he has recorded 40 albums - many already classics. The last concert of the season is on Wednesday, August 15, and will feature Lenny Picket with the Borneo Horns. A member of the Tower of Power Horns from 1972 until 1981, he is the tenor saxophone soloist with the Saturday Night Live Band. He has played with the SNL Band since 1985 and became the musical director in 1995. Pickett has also worked as a saxophonist and arranger for David Bowie, Talking Heads, and Laurie Anderson.   A recording of his music,
Lenny Pickett with the Borneo Horns
, was praised by
Downbeat
magazine for its "brilliantly creative use of acoustic instruments. " As has become a Shades of Jazz tradition, John Scofield will join both Cyrille Aimée and Lenny Pickett at the conclusion of their performances. Shades of Jazz is sponsored by: Blue Note Jazz Festival, Susan and John Scofield, and Sylvia Smolensky and Steven Silberstang. 
###
Photo:
Cyrille Aimée
Contact:
Marcia Clark (845) 528-6647
marcia@shamelesspromotions.com