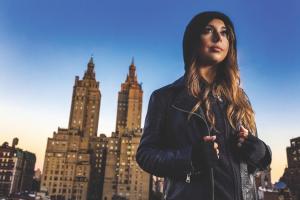 Saturday, May 14th
Rochester, NY (April 12, 2022) -- The Ann and Marc Iacona Foundation will present An Evening with jazz vocalist Veronica Swift on Saturday, May 14 at 7:30 p.m. at the Theater at Innovation Square in Rochester located at 131 Chestnut St. in Rochester, New York.
Tickets are $40 to $60 plus $4 service fee and are on sale online now at the Theater at Innovation Square website at theaterais.com.
Marc Iacona is the producer and executive director of the CGI Rochester International Jazz Festival, where Swift performed in 2017 and 2019.
The Iaconas are also donating hundreds of tickets to this concert to the doctors and nurses and other health care heroes at Rochester Regional Health in recognition of their extraordinary work during the pandemic.
"Ann and I have supported Rochester Regional Health in many ways over the years," said Marc Iacona. "At this concert, we wanted to do something special to say thanks to the dedicated health care workers there who have worked so tirelessly to help patients who have depended on them over the past two years during this difficult pandemic."
Veronica Swift
With a repertoire running the gamut from swing to bebop to the Great American Songbook, Veronica Swift is a young but fully-fledged star on the international jazz scene. Boasting a clear and lilting tone and radiant stage presence, she is also a master of rigorous vocal techniques like vocalese and scat. In the Wall Street Journal's words: "[Swift] might be the best scat singer since Ella Fitzgerald, Anita O'Day, Sarah Vaughan and Mel Tormé."
Having first gained widespread attention in high-profile collaborations with the likes of Wynton Marsalis and Chris Botti, she has developed a devoted following among audiences. On stage, Veronica will be performing selections from her 2021 album, This Bitter Earth, along with additional jazz standards, rock classics, and more.
As Swift remarked recently, "These shows at the Theater at Innovation Square are not only a comeback after a year long hiatus of no gigs, but it is a rebirth…. The songs I've picked for this show encompass some of This Bitter Earth's message, but also we have included new songs that mix classical with rock and roll and funk as well as jazz. I now know, my purpose as an artist is to break down these genre barriers and fully immerse the audience in what to me is just simply: music."
###