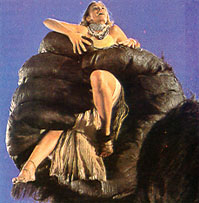 Lange to be awarded George Eastman House Honors; museum presents exhibition of her photographs and series of her films
ROCHESTER, N.Y.
- George Eastman House International Museum of Photography & Film celebrates Oscar®-winning actress Jessica Lange this summer, with a photography exhibition of her work, a film series, and the awarding of the George Eastman House Honors. Lange will visit Eastman House Saturday, July 25, when she will introduce her recent film Grey Gardens and also take part in a tribute evening, when she will discuss her photography and film career. Tickets go on sale Tuesday, June 16. Lange's filmography includes
King Kong
,
Tootsie
,
Blue Sky
,
The Postman Always Rings Twice
, and
Grey Gardens
.
Jessica Lange in Person
The George Eastman House Honors is an award given to an artist whose life work embodies the traditions and values championed by George Eastman House International Museum of Photography & Film. Lange will be the first recipient of this newly established award. She will appear at the Dryden Theatre for two separate events on Saturday, July 25: 5 p.m. Lange will personally introduce a screening of the HBO film
Grey Gardens
(Michael Sucsy, US 2009, 104 min., Digital Projection), which features her most recent leading role, as Edith Bouvier Beale, mother to Drew Barrymore's "Little Edie." These cousins to Jacqueline Onassis lead a reclusive and eccentric lifestyle - far removed from their high-society days in 1930s New York - and forged a unique bond while living in a ramshackle mansion in East Hampton. Regular Dryden admission at the door: $7 general admisson/$5 students and members (no advance sales and no Take-10 tickets or passes accepted). 8 p.m. Join us for "An Evening with Jessica Lange," which will include the presentation of the inaugural George Eastman House Honors to Lange, as well as a discussion of her artistic career, clips of her motion picture work, a look at her photographs on exhibit at Eastman House (July 18-Sept. 20), and a booksigning. Tickets are $20 general admission/$15 members and students, and are on sale (beginning June 16) at the Dryden box office, Eastman House admissions desk, or online at dryden.eastmanhouse.org.
Jessica Lange Photography Exhibition
The exhibition
50 Photographs by Jessica Lange
will be on view at Eastman House July 18 through Sept. 20. The black-and-white images featured depict film locations, family, and the places she has visited on her travels. But rather than a collection of starry shots, most of the photographs are studies of unknown people and far-away places, such as Ethiopia and Romania. After three decades in front of the camera, Lange is now realizing her dream of being on the other side of the lens. "Jessica's photographs very much reflect her personality," noted Aperture magazine. "They are delicate, but powerful...loving, warm, and extremely poetic." Lange studied photography at the University of Minnesota and made documentary films in Europe in the late 1960s, before engulfing herself in an acting career. She returned to photography many years later, when her longtime partner Sam Shepard brought a Leica home from a movie set. "It was great," Lange told New York magazine. "I'd go down into the basement after the kids were in bed, put one some Al Greene and Same Cooke, and develop pictures." "It's a great counterpoint to filmmaking," Lange explained, "because it's a private, solitary experience. It's like writing or painting; it's something you can do on your own. Acting is a co-dependent art form, and the actor is not in control. And filmmaking definitely informs the decision to photograph something. I'm drawn to situations with a dramatic feel to them as far as lighting or backdrop or people's presence, the way someone stands." A book of Lange's work was published last year (powerHouse, $60) titled 50 Photographs by Jessica Lange, with an introduction by musician Patti Smith. The images were shot mostly during Lange's considerable travels as an actress and as a volunteer for charities in Russia and Africa, as well as in the northern part of her native Minnesota, where she still has a home. There's even one photo from the first roll she took with her Leica, while in Romania, in the early 1990s. Lange said she loves photography because "it is the antithesis of film or stage work. I can do it privately and on my own time. It is a personal, solitary way of expressing myself." Lange has been a collector of black-and-white photography for more than two decades. Her favorites hang throughout her house, she said, providing a constant, if not subconscious, source of inspiration and influence. "I can describe acting in much more concrete terms than I can photography," she said of her work. "But there's something about presenting an image in black-and-white that's so reductive in a way. It sort of eliminates all extraneous information."
Jessica Lange Film Series
The Dryden Theatre will present Jessica Lange films every Thursday evening in July. Lange made an inauspicious debut on film with the 1976 remake of
King Kong
. Looking to do more challenging work with serious artists, Lange first impressed her critics in 1981 with her performance as Cora, the neglected wife of a roadside diner owner who falls into a passionate but deadly affair with a drifter (Jack Nicholson) in Bob Rafelson's remake of
The Postman Always Rings Twice
(screening July 2). The very next year was a watershed one for Lange, as she earned two Academy Award® nominations and won the Best Supporting Actress Oscar® for her deft, charming turn as Dustin Hoffman's best friend and love interest in
Tootsie
(July 9). Since the early 1980s, Lange has maintained her reputation as a performer with integrity and ethics. Frequently, the subjects of her films are directly related to issues in the national, or international, discourse, such as the legacy of the Holocaust, in Costa-Gavras's
Music Box
(July 16). The importance of such projects, however, is never overpowering enough to stifle the often subtle and very real emotions that she is capable of delivering. Tony Richardson's period drama
Blue Sky
(July 23) provided the role that earned Lange her second Oscar®, this time for Best Actress. Set against the backdrop of the U.S. arms race buildup in the 1960s, Blue Sky also serves as another vehicle for Lange's masterful, compelling technique as a performer. Continuing to work with the most talented and visionary of filmmakers and fellow actors into the 21st century, Lange made a tantalizing villainess as Tamora, Queen of the Goths in acclaimed stage director Julie Taymor's first feature,
Titus
(July 30), an adaptation of Shakespeare's Titus Andronicus. All films screen at 8 p.m. Dryden admission is $7 general admisson/$5 students and members. For more information, please visit dryden.eastmanhouse.org. The exhibition
50 Photographs by Jessica Lan
ge and the film series Jessica Lange Thursdays are made possible by Woods Oviatt Gilman LLP and First Niagara Financial Group. Media Contact: Dresden Engle dengle@geh.org (585) 271.3361 ext. 213