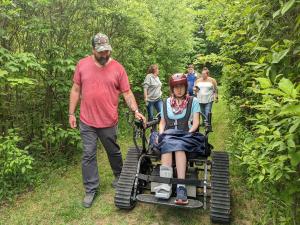 Battery powered, all terrain Action Trackchair © makes trails accessible to all
Cortland, NY - Lime Hollow Nature Center has just become only the 2nd nature center in all of NY State to offer the Action Trackchair, a battery-powered, all terrain "wheelchair" designed to make trails accessible for people with mobility challenges, thanks to a donation from the JM Murray Foundation. Except this chair doesn't have wheels, it has tracks similar to a tank which can easily traverse uneven terrain and take people deep onto the trails which meander through 600 acres of forests, fields, streams, and unique geological features.
"Since our inception in 1993, the Lime Hollow Nature Center was envisioned as 'a place where ALL can wander, wonder, play, and learn" says Ilya Shmulenson, executive director of the Lime Hollow Nature Center. Enter JM Murray. Since 1966, Cortland-based JM Murray has provided vocational and supportive services to individuals with disabilities. "When JM Murray reached out about donating the Action Trackchair, we were beyond thrilled. Many people in our community and those traveling through the area are unable to have deep immersive nature experiences because of mobility challenges. The JM Murray Foundation's generosity has made Lime Hollow's vision a reality."
"We posted a story on our social media feed about a disabled self-advocate, Aimee Copeland Mercier from Georgia, who was using the Action Trackchair to improve her mobility, " said Ernie Dodge, JM Murray president and CEO. "The JM Murray Foundation's golf classic was coming up and this seemed like the perfect gift. Lime Hollow is in our backyard and many of the individuals we serve as well as our employees, enjoy visiting the nature center. We reached out to them to see if they were interested. It wasn't a tough sell."
The addition of the Action TrackChair is part of Lime Hollow's multi-year "Trails for All" campaign. The nature center intends to begin offering extended weekend hours starting in
September so that the chair is available to the public 7 days a week. Over the next two years, it aims to regrade, reroute, and resurface certain trails through the famed Art Meadow to expand the Accessible Trail from 1/4 mile to 3 miles, as well as create several rest points with seating, repair and widen the existing bridges, repair the accessible observation deck overlooking Gracie Pond, install new directional signage, and upgrade maps. These priorities were identified in collaboration with Cornell University's Design Connect program and the outdoor recreation internship program at SUNY Cortland through community engagement, trail assessment, and reviewing trail accessibility best practices. Lime Hollow has secured funding for these initiatives from Plan First Technologies, the Central NY Community Foundation, and the Siegle Foundation. The total cost of these upgrades will be about $100,000 and fundraising efforts are ongoing.
"With this gift, individuals with mobility challenges will be able to navigate the trails on their own, unassisted," adds Dodge. "It's challenging enough for individuals dependent on a wheelchair for mobility. It's nearly impossible to navigate uneven and rough trails and it always requires a great deal of manual effort and support from others. Not anymore!"
"We believe that the Lime Hollow Nature Center can be a place where someone in a wheelchair, with a walker or cane, can join someone pushing a stroller, while their kids run through fields and forests, all enjoying time together in nature," says Ilya Shmulenson, director of the Lime Hollow Nature Center. "We know that the benefits of nature are universal. We want to make sure that everyone can access them at the Lime Hollow Nature Center."
Beginning in August, the Action Trackchair will be available, free-of-charge, to anyone who needs it. Reservations can be made online at www.limehollow.org or by calling 607-662-4632.
***
Photo credit: Lime Hollow Nature Center
About Lime Hollow Nature Center
Since 1993, the Lime Hollow Nature Center has been providing year-round environmental education and recreation opportunities through the utilization and protection of the natural and cultural resources of the Lime Hollow area. Lime Hollow now encompasses nearly 600 acres of beautiful rolling hills and shallow glacial valleys (kame-and-kettle topography), forests, fields, streams, numerous ponds, including many marl ponds and vernal (seasonal) pools, a peat bog, and a great diversity of flora and fauna. Programs include NY State first licensed forest preschool, summer and school break camps, youth and adult naturalist programs, and the 13+ miles of trails are open to the public year-round free-of-charge.
About JM Murray
Founded in 1966 JM Murray is a private, not-for-profit community organization that provides vocational training and habilitation training and services for people with disabilities and their families that enhance their quality of life. Based in Cortland, NY, JM Murray employs 450 full-and part-time staff, and provides services to over 700 individuals and families across NYS including the Hudson and Valley-Taconic Falls region, and Albany, Broome, Cayuga, Onondaga and Tompkins counties. With a tailored, person-centered approach, JM Murray offers individuals the opportunity to achieve greater self-sufficiency. Services include Site and Community-based Pre-vocational services, recreational respite, Community Habilitation, Supported Employment, Self-Direction, Respite, Day Habilitation, Adaptive Technology, Family Support Services and Office of Mental Health services. For more information, visit www.jmmurray.com
Contact:                                                                     Contact:
Ilya Shmulenson, Executive Director                         Molly Lane, PR Coordinator
607-662-4632 (office); 512-571-9968 (cell);              607-758-1946