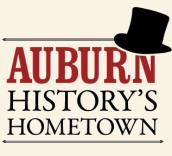 Free
Holiday
Celebration December 13
Auburn, NY
- Holiday Traditions is an event that was created by the Seward House over 30 years ago as a token of appreciation to the Auburn community. Since that time, other local cultural attractions and sites have opened their doors for free the second Sunday in December for residents to enjoy during the holidays. Now, the "open house" is a tradition and, again this year, participation has expanded to include churches and other non-profit organizations. 
Auburn's Historic & Cultural Sites Commission
To ensure communication between the many Holiday Traditions' partners, the City of Auburn's Historic & Cultural Sites Commission coordinates publicity and advertising for this event. The Commission site members include Auburn Public Theater, Auburn Schine's Theater, Cayuga Museum & Case Research Lab, Harriet Tubman Home, Schweinfurth Memorial Art Center, Seward House Museum and Willard Memorial Chapel.
The Cayuga Museum, 203 Genesee Street (315) 253-8051
www.cayuganet.org/cayugamuseum
From Noon - 5PM come visit the Cayuga Museum decorated for the holidays, and enjoy an art quilts display, which complements the Schweinfurth Memorial Art Center's "Quilts=Art=Quilts" show next door. This year, the exhibit features new methods of traditional quilting from Watkins Glen quilter Sjoukje Schipstra. The museum's annual Quilt Show will be displayed in the downstairs galleries. 
Patterns in Abstract Art
will be exhibited in the museum's second floor galleries. This exhibit will feature paintings and prints by Lynne Taetzsch. Lynne is an author and abstract artist from Ithaca. These exhibits will run from November 13, 2009 through January 3, 2010.
The Harriet Tubman Home, 180 South Street (315) 252-2081
http://www.harriethouse.org/
Although only open by appointment this time of year, the Harriet Tubman Home will be open from Noon - 5PM. Please call the Home directly for details on that day's program.
Schweinfurth Memorial Art Center, 205 Genesee Street (315) 255-1553
http://www.myartcenter.org/
From Noon - 5PMcome tour the 29th annual juried quilts exhibit Quilts=Art=Quilts, on view November 1 - January 10, 2010. This year's exhibition features 88 quilts by 66 artists, showcasing some of the finest examples of contemporary quilting from around the country. The 2009 jurors, Rosalie Dace, Kerr Grabowski & Margo Mensing, chose from 360 entries by 206 quilters and selected quilts for their overall visual impact, design and originality. 
Quilt Trunk Show by Pat Pauly, 2PM
Known for her improvisational technique, Pat Pauly uses bold color and unusual juxtapositions of printed and painted fabric in her work. Her frequent lectures and workshops on contemporary art quilts carry the same qualities as her work - energized, spontaneous and definitive. A textile artist since 1981, Pat shows her quilts nationally as well as curates and designs exhibitions of contemporary and historic textiles. She maintains a studio near Rochester, NY.
Seward House Museum, 33 South Street (315) 252-1283
http://www.sewardhouse.org/
Victorian-style Christmas decorations fill the rooms of Seward House Museum. Throughout the afternoon, between Noon - 5PM, the "Key of C" singers will perform and tours will be given by docents; plus Civil War reenactors will be on site.
Seymour Public Library, 176 - 178 Genesee Street (315) 252-2571
http://www.seymourlibrary.org/
From Noon - 5PM the library will offer tours highlighting the historical aspects of the building, which is listed in the U.S. National Register of Historic Places. Tours will be given by the Friends of Seymour Library. Staff will be available to provide tours of the Mary Van Sickle Wait History Room. Genealogy experts will conduct tutorials on using library resources to conduct genealogy research, including the use of databases such as ancestory.com, Fulton History and Heritage Quest.  Light refreshments will be served, and Christopher Molloy will provide harp music. 
St. Francis of Assisi Church, 303 Clark Street (315) 252-7593
http://marymarthaauburn.org/
The Church, which is celebrating its 102nd anniversary this year, will host a free Auburn Chamber Orchestra holiday concert at 4PM.
St. Mary's, 17 Clark Street (315) 252-6343
http://www.stmaryauburn.org/
St. Mary's will host a holiday Baroque "Musica Transatlantica" choral concert led by Director Colleen Liggert at 3PM followed by refreshments.
Ward O'Hara Agricultural Museum, Route 38A (315) 252-5009
www.cayuganet.org/agmuseum
Celebrate Christmas in the 1800s from Noon - 4PM at the Ward O'Hara Agricultural Museum. Enjoy free visits with Christmas animals and decorate your own Christmas cookies. Holiday music, horse-drawn wagon rides and hot mulled cider are also part of the Agricultural Museum's Holiday Traditions' celebration.
Westminster Presbyterian Church, 17 William Street (315) 253-3331
www.westminsterauburn.org/
From Noon - 5PM, visitors can view a display of hand-sewn Advent banners that tell the Christmas story in needlework, and tour the historic church. The Cayuga Community College Chorus will be performing its holiday concert at 2PM, and the MasterWorks Chorale performing selections from its holiday concert at 4PM.
Willard Memorial Chapel, 17 Nelson Street (315) 252-0339
http://www.willardchapel.org/
The Willard Chapel will host two performances for Holiday Traditions. One by local organist Sandy McNabb, performing holiday selections on the historic Steere & Turner Organ at 1PM and 3PM. Then Auburn's Purple Lancer's Band will perform at 2PM. Chapel tours will be offered throughout the day from Noon - 5PM. The Chapel will be fully decorated, complete with a Victorian Christmas tree.
For more information about Holiday Traditions, call the Cayuga County Office of Tourism at 255-1658. If you have questions regarding a specific venue, please phone them directly.