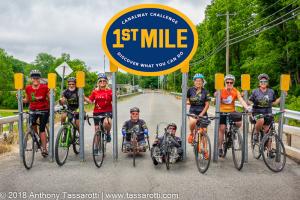 People with Disabilities are invited to take part in 1st Mile Challenge along the Erie Canal

Waterford, N.Y. (June 12, 2019) - Get ready for the ride of a lifetime! From July 1-10, John Robinson, CEO of Our Ability, Inc, will complete his 7th Journey Along the Erie Canal. A congenital amputee born without full arms and legs, Robinson will use a handcycle to ride all 360 miles from Buffalo to Albany to raise awareness of the needs of people with disabilities. Along the way, he and his team are inviting people with disabilities and their families and friends to join them for the 1st Mile Challenge, as part of the Canalway Challenge.

The CanalwayChallenge is a new initiative from the Erie Canalway National Heritage Corridor that invites people to trace history while tracking miles walking, running, cycling or paddling on the New York State Canal System and Canalway Trail. The free program includes a range of mileage options--15 miles, 90 miles, 180 miles, and 360 miles—so that people of all ages and abilities can participate.

"We are challenging people with disabilities, people with mobility issues, or anyone who has never been out on the Canalway Trail to just do one mile," says Robinson. "We understand that if you do one mile, you'll do 15, and you will end up achieving more than you ever thought you could."

Robinson is a renowned entrepreneur, advocate, and motivational speaker whose personal story has inspired thousands. He has overcome countless obstacles to become a successful businessperson, family man, and inspirational keynote speaker. He founded Our Ability, as a way of helping to mentor and inspire people with disabilities and advocate for employment. Robinson first learned to ride a bike just eight years ago.

"John and his team have paved the way for others with disabilities and mobility issues to use the Canalway Trail for recreation. We couldn't be more excited to partner with him and invite people to get out and try their 1st mile," said Bob Radliff, Executive Director of the Erie Canalway National Heritage Corridor. 

Several locations along the Erie Canal offer handicap accessible kayak launches and paved sections of the Canalway Trail are accessible for wheelchairs and hand cycles.

SCHEDULE:
July 1 – 10;  Daily morning departure time is 8:30am. 1st Mile special events in bold.
Monday, July 1, Canalside, Buffalo to Medina (51 miles)
Tuesday, July 2, Medina Propect Ave Lift Bridge to Fairport (56 miles)
Wednesday, July 3, Fairport Lift Bridge to Clyde (39 miles), 8:30 am 1st Mile Kick off with Monroe and Wayne ARC
Thursday, July 4, Clyde to Camillus Erie Canal Park (31 miles)
Friday, July 5 (OFF)
Saturday, July 7, Camillus Erie Canal Park to Durhamville Fire Department (51 miles)
Sunday, July 8, Durhamville Fire Department to Little Falls Canal Harbor (51 miles)
Monday, July 9, Little Falls Canal Harbor to Port Jackson, Amsterdam (40 miles)
Tuesday, July 10 (OFF)
Wednesday, July 11, Liberty ARC, 43 Liberty Drive, Schenectady to Jennings Landing, Albany (46 miles), 8:30 am 1st Mile Kick off with Liberty ARC
The Canalway Challenge is funded in part by a grant from Market New York through I LOVE NY, New York State's Division of Tourism, as part of the state's Regional Economic Development Council initiative. Additional sponsorship is provided by the New York State Canal Corporation. 
   
ABOUT THE ERIE CANALWAY NATIONAL HERITAGE CORRIDOR
Nearly 200 years after its construction, the Erie Canal remains an iconic symbol of American ingenuity and determination. The Erie Canalway National Heritage Corridor preserves our extraordinary canal heritage, promotes the Corridor as a world-class tourism destination, and fosters vibrant communities connected by more than 500 miles of waterway. It achieves its mission in partnership with the National Park Service, New York State agencies, non-profit organizations, local residents, and more than 200 communities across the full expanse of upstate New York.
http://www.eriecanalway.org/  
http://www.canalwaychallenge.org/

ABOUT OUR ABILITY, INC.
Our Ability is a 501c3 organization dedicated to inspiring individuals with disabilities to achieve their dreams through education and employment as well as to educate able-bodied individuals about the differences in ability around us.
https://www.ourability.com/journey-along-the-erie-canal/
https://youtu.be/03Fk0EOB-Os

###
ATTACHED PHOTO: John Robinson (center left) and his team are set to make their 7th Journey Along the Erie Canal, inviting inviting people with disabilities and their families and friends to join them for the 1st Mile Challenge as part of the Canalway Challenge.
Contacts:
Jean Mackay, Erie Canalway National Heritage Corridor
518-925-6721 (mobile); jean_mackay@partner.nps.gov

John Robinson, Our Ability, Inc.
518-429-9256; john.robinson@ourability.com