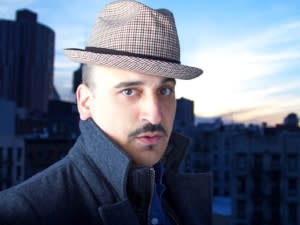 Featuring Special Guests Mo Rocca, Tedd Firth and more
Saratoga Springs, NY  - The Orchard Project is proud to announce a celebrity fundraiser event, Julian Fleisher & Friends , happening at 8pm on Tuesday, June 27th at Putnam Den in downtown Saratoga Springs. Tickets are $75 (includes reserved table seating and wine service) or $50 (general admission) and can be purchased at www.orchardproject.com or by calling (646) 760-6767.
Internationally renowned singer, songwriter, producer, and WNYC Radio personality Julian Fleisher – currently serving as Director of Cabaret and Musical Theatre at the Orchard Project – has invited some of his closest friends to come to Saratoga Springs for one night only. Featuring TV's Mo Rocca, native son pianist Tedd Firth and a bevy of surprise celebrity guests, Fleisher will bring his signature style to the second "golden age" of American popular song: 1975 .
Featuring timeless tunes by The Eagles, Joni Mitchell, Fleetwood Mac, Charlie Smalls, Billy Joel, Kenny Loggins, Barbra Streisand and more, Fleisher uses the groovy grinder of his Rather Big Band to turn the meat of classic American songs into exciting sausages the likes of which you've almost certainly never tasted before.
Event Details:
Julian Fleisher & Friends
Tuesday, June 27, 2017
8:00pm at Putnam Den
Doors open at 7:30pm
63 Putnam St, Saratoga Springs, NY 12866
For Media Inquiries:
Brandon Pape – General Manager, The Orchard Project
646-760-6767 x102
brandon@orchardproject.com 
Interviews available upon request.
###
Contact: Brandon Pape, General Manager, The Orchard Project
brandon@orchardproject.com or 646-760-6767 x102