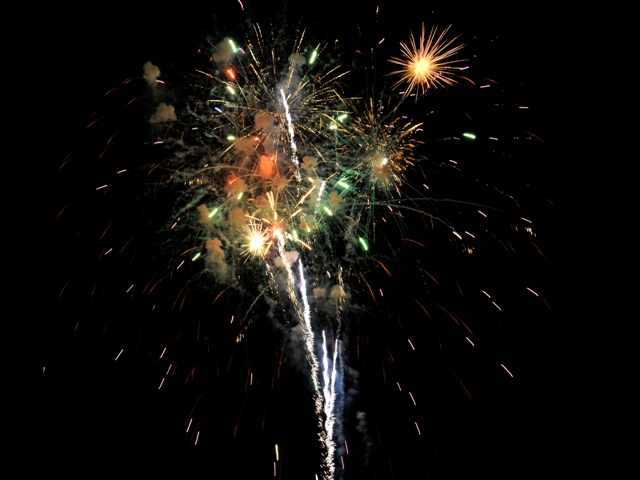 Kingston, N.Y.
- The 4
th
of July celebration in Kingston will take place on the historic Rondout waterfront in downtown Kingston on Wednesday, July 4
th,
from 6PM-10PM, with fireworks sponsored by Mainetti, Mainetti & O'Connor, P.C taking place at 9:30PM. Visitors and residents alike are encouraged to bring family, friends, lawn chairs and flags and enjoy all that the Rondout waterfront has to offer. Dining, shopping and reveling in a patriot celebration are at the forefront of this year's festivities. Kingston Mayor Shayne Gallo encourages people to "spend the day enjoying all the historic Rondout district has to offer. You can take a stroll on our waterfront promenade, explore the Trolley and Maritime Museums or simply shop and dine while you wait for the fantastic fireworks display to start." The impressive fireworks display is sponsored by Mainetti, Mainetti and O'Connor, P.C., a law firm in Kingston.      "The City of Kingston and the surrounding community has given a lot to us," said attorney Joseph O'Connor.  "We feel fortunate to be in a position to give something back and we feel that sponsoring the fireworks is something that everyone can enjoy and we're happy to do it." With so much to see and do in this historic waterfront section of New York State's first capital city, visitors will want to arrive early to stroll along the waterfront promenade and through the shops, art galleries, antique stores and two museums that line the streets. Bring the family and enjoy outdoor dining at Dermot Mahoney's Irish Pub, Mariner's, Ship to Shore or Savona's Trattoria while 92.9 WBMP and the classic rock band, Hot Rod, play music from the 50's through the 90's in TR Gallo Park. Before the dazzling display in the summer sky a patriotic address will be given by Kingston Historian Ed Ford, United States Serviceman Daniel McShea will lead the crowd in the Pledge of Alliance and Terri Dwyer will perform a stirring rendition of the Star Spangled Banner. Samir Hrichi, Chef/Owner of Ship To Shore Restaurant and one of the organizers of this year's family oriented, all-American celebration said, "I'm excited to be a part of this year's Independence Day celebration, especially since we are celebrating it on the actual Fourth. This will be my 14th year on the waterfront and I don't think there is a better place to celebrate than in the first capital of New York State.  I'll even be creating a classic All-American menu for the occasion available all day and night!" Further down the Strand, revelers will want to arrive early for creek-side dining and boat watching from the spacious back decks at the Steel House and Rosita's. In honor of the holiday the Hudson River Maritime Museum will enjoy extended hours and discounted admission. Public Relations Director Lana Chassman said: "Bring your friends, family and picnic blankets and join us at the best seat on the creek for the fireworks at 9:30". Make New York's first capital your homeport for fun this Fourth of July. Celebrate in a city that remembers what the day is all about: A salute to our founding fathers and all those who continue to fight for and protect our freedoms. Bring your family and your flag for a day on Kingston's waterfront. For more information, visit
http://www.ulstercountyalive.com/
Photo:
Fireworks shoot skyward during last year's 4th of July celebration in Kingston. This year's event will take place on the historic Rondout waterfront in downtown Kingston on Wednesday, July 4th, from 6PM-10PM. Photo credit: Anita Defina Hadley
About Ulster County Tourism
Ulster County, located less than 90 minutes from midtown Manhattan, has 250,000 of forever-wild acres encompassing 35 peaks and 350 miles of hiking trails. From biking to hiking, from kayaking to wind surfing, from hitting the sweet spot on one of our 12 golf courses to horseback riding and fly-fishing, it is truly a four-season recreation area. The county's rural vistas provide beauty for each one. Learn more at
http://www.ulstercountyalive.com/
.
###
Contact:
Richard J. Remsnyder Ulster County Tourism 845-340-3566
rrem@co.ulster.ny.us