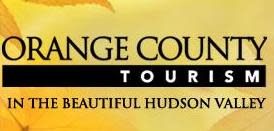 Residents can still enjoy their favorite meals through to-go menu options and services.
Orange County, N.Y. (April 7, 2020) – Across the globe, citizens are grappling with a new normal as individuals and businesses exercise precautions to fight the spread of COVID-19. Orange County, N.Y. is no exception. Many small businesses, including restaurants, are suffering as they close temporarily to help protect their employees', their families, and their communities. However, many remain open to prepare delivery and takeout meals for local residents who may be looking for a familiar meal or convenient option when grocery stores remain sparse. Orange County has nearly 200 restaurants offering carry-out and delivery services.
"During this period of necessary social distancing, many of us are looking for ways to regain a sense of normalcy. One way to do this is to help support local restaurants who are continuing to offer takeout and delivery services," said Orange County Tourism Director Amanda Dana. "Whether you order from your favorite spot where everyone knows your name, or you decide to try something new, your patronage will help businesses keep their doors open."
Some Orange County, N.Y. restaurants that currently offer delivery and takeout options include:
Cosimo's, 100 State Route 32, Central Valley; 620 Route 211 East, Middletown; and 1217 Route 300, Newburgh: Bringing everyone together around the table continues to be an enduring tradition within the Cosimo's family. Delivering farm-to-table menu items ranging from brick oven pizza to mouth-water prosciutto & fig flatbread, a Cosimo's meal is sure to delight. cosimos.com
Delancey's, 40 Park Place, Goshen: Known for its vast selection of comfort food and sophisticated dishes, Delancey's is currently offering its full menu for delivery and takeout, Monday through Sunday, 4:00 - 8:00 p.m. delanceysny.com
Wildfire Grill, 74 Clinton Street, Montgomery: Wildfire Grill is offering a menu filled with variety including salads, tacos, burgers, and more. Wine, beer, and cocktails are also available to-go with Wildfire Grill's curbside pickup options. Lunch and dinner menus are posted daily on the restaurant's Facebook page. facebook.com/The-Wildfire-Grill-478012530503
Oak and Reed, 45 53 North Street, Middletown: One of Middletown's newest restaurants, Oak and Reed bridges the gap between elevated comfort food and contemporary cuisine. The establishment is currently offering takeout and curbside pickup with a menu that is updated daily, and can be found on the restaurant's website or Facebook page. oakandreeddowntown.com
Jolly Onion Restaurant, 625 Glenwood Road, Pine Island: The recently-reopened Jolly Onion Restaurant is offering a modified menu that includes salads, soups, appetizers, sandwiches and burgers, as well as dinner and kids menus and desserts. Available Wednesday through Sunday only. toasttab.com/the-jolly-onion-625-glenwood-rd
Brother Bruno's Restaurant, 17 Front Street, Port Jervis and 125 Dolson Avenue, Middletown: Home-style cooking and delicious homemade pizzas, calzones, subs, salads, and more are still available for delivery and takeout from Brother Bruno's at its Port Jervis and Middletown locations. brotherbrunospizza.com
Iron Forge Inn, 38 Iron Forge Road, Warwick: Enjoy the Iron Forge Inn's fine country dining from the comfort of your own home. Available for curbside pickup and delivery, the restaurant is offering appetizers and sides as well as entrees, dessert, and its full bar. Menus are updated daily. ironforgeinn.com
For a full list of Orange County, N.Y. restaurants offering delivery and carry-out options, please visit orangetourism.org/carry-out-restaurants. The list is continually updated to reflect any changes that may occur.
About Orange County Tourism
Orange County Tourism, based in Goshen, N.Y., is the county's tourism headquarters and a participant in the I LOVE NY program. A comprehensive listing of area attractions, lodging, and events can be found at www.OrangeTourism.org. Like Orange County Tourism on Facebook for the latest news on local happenings. For a free copy of the Orange County Travel Guide, e-mail tourism@orangecountygov.com or call 845-615-3860.
###
For more information, contact:
J.P. McGuirk
Focus Media, Inc.
845-576-2212