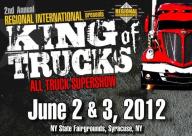 Syracuse, N.Y.
- In case you missed the first ever Regional International King of Trucks All Truck Super Show last year, you can see it again at the State Fairgrounds in Syracuse, Saturday, June 2 and Sunday, June 3. King of Trucks is organized by
Right Coast Inc.,
who also hosts the widely popular Syracuse Nationals to take place Friday, July 20 through Sunday, July 22 this year. Although you won't find any cars at this show, you will see more than 2,000 vehicles from tractor trailers to lowered mini-trucks are expected to come from across the Northeast and Canada to display their blinding chrome, huge wheels, slammed or lifted suspensions, and thundering stereo systems! For truck owners who like playing in the dirt, two huge obstacle courses will be built to test their driving skills. The New York State Fairgrounds will provide ample room for a variety of events including a huge off-road playground, mud bogs, show and shine field, manufacturer's row, swap meet area, campgrounds, pulling track and live entertainment stage. Activities such as the teeter-totter, RTI ramp, motor dyno, balance logs, mud-pit, Kids Rule! Inflatable play land, R/C truck playground, rock crawling demos and more, will take place throughout the weekend. Syracuse Nationals is held at the New York State Fairgrounds in July. In its 13th year, the event has grown to be one of the largest classic car shows in the country with more than 7,300 cars, 82,000 spectators and 350 vendors representing 30 states and three Canadian provinces. Tickets are now available online at
King-of-Trucks.com
. If purchased in advance, one-day tickets are $12 for adults and $6 for children (ages 6 to 12). Two-day tickets are $20 for adults. At the gate, one-day tickets are $15 for adults and $8 for children (ages 6 to 12) Children ages 5 and under are free. Event parking is free; attendees should enter through Gate 6. For more information, visit
King-of-Trucks.com
 or call 315-668-9703.
About Right Coast Inc.
Right Coast Inc., located in Syracuse, N.Y., is an automotive and motorsport event promotioncompany with a focus on family oriented events. Right Coast Inc. produces one of the largest classiccar shows in the country, the Syracuse Nationals. The event has generated more than $120 million indirect visitor spending for Onondaga County over the last twelve years. For more information, visit
RightCoastCars.com
.
###