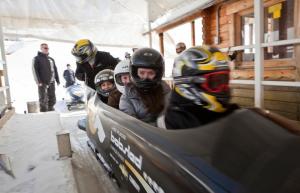 The Lake Placid Olympic legacy will be front and center during a weeklong celebration beginning February 14
Lake Placid, NY – Forty years ago this February, the Adirondack village of Lake Placid hosted the 13th Olympic Winter Games. The heroics of the U.S. men's Olympic hockey team's improbable win over the Russians, known as the "Miracle on Ice," and speed skater Eric Heiden's five gold medals helped make the 1980 Lake Placid Games one for the ages, one with an enduring legacy.
The 40th anniversary of the 1980 Winter Games presents the perfect opportunity to celebrate Lake Placid's rich Olympic legacy - past, present and future. From February 14 - 23, the two-time Olympic village is rolling out the welcome mat and is hosting a full slate of activities that will embody the Olympic spirit - from re-living the opening ceremony and torch lighting, ice skating around the historic Olympic Oval, to skiing with Olympic athletes. There will be opportunities to meet several Olympic medalists including speed skater Dan Jansen (1984,1988,1992,1994),  alpine ski racer Andrew Weibrecht (2010, 2014, 2018), luger Mark Grimmette (1994, 1998, 2002, 2006, 2010), figure skater Paul Wylie (1992) and many more.  The entire village including the Olympic venues will be on full display during this community-wide celebration.
The Legacy
Lake Placid is one of only two cities world-wide to have hosted two Olympic Winter Games, 1932 and 1980. Since then, it has played host to annual World Cup events and other large-scale sporting competitions.
The village's Olympic legacy is unmatched. Lake Placid has sent at least one athlete to every winter Games, and in total, has sent over 100 athletes to compete, since the first modern winter Games in 1924. Other area athletes have also claimed Olympic glory, including Andrew Weibrecht, a two-time Olympic medalist in Super-G; Billy Demong, a two-time Olympic medalist and Olympic champion in Nordic Combined; and Chris Mazdzer, an Olympic silver medalist in men's singles luge. This is accomplished through Lake Placid's commitment and support of its Olympic sports development programs.
Recently, New York Governor Andrew Cuomo committed nearly $240-million in funding to support the Olympic Regional Development Authority properties. These unprecedented investments in capital projects are improving the infrastructure of Olympic venues to ensure they can continue to attract and support large-scale, global events, while transforming these areas facilities into year-round attractions.
The Celebration
The following highlights just some of the events planned. More activities are being added on a weekly basis. For more information, schedule, and updates, visit https://www.lakeplacid.com/the-40th-anniversary-of-the-1980-winter-olympics.
   - Torch run with 1980 Olympic Winter Games torchbearers and local athletes, followed by lighting of the 1980 Olympic Cauldron on the grounds of the Opening          Ceremonies.  State and local officials and past, present and future Olympians will be part of the ceremony. 
 - speaking engagement and meet and greet with speed skater and medalist Dan Jansen
  - First tracks at Whiteface Mountain with Olympic medalist Andrew Weibrecht  
 - Learn to Luge with Olympic lugers and coaches 
 - Be a Biathlete! Experience the sport of biathlon with Olympic biathletes 
 - Athlete forum on Lake Placid's Olympic Legacy with a Q&A featuring some of Lake Placid's Olympians
 - Screening of the Disney movie Miracle at Lake Placid's Palace Movie Theatre.  
- Cross-country or downhill ski with Olympians at Whiteface Mountain and Mount Van Hoevenberg 
 - Book signing by Wayne Coffey, author of The Boys of Winter, an account of the "Miracle on Ice" 
 - 80s Family Fun Party at the Olympic Ski Jumps and other venues 
 - 80s themed trivia night  
- Learn the sport of curling on Mirror Lake 
 - Vintage wine tasting at Terry Robards Wine & Spirits  
- Olympic-themed crafts for kids
Enjoy the "fun zone" on Main Street each evening between 4 p.m. and 6 p.m. where visitors can enjoy hot chocolate, s'mores, games, music and more. Restaurants, bars and shops will be celebrating too with live music and events. 
Lake Placid as a winter destination
Along with these special events, guests can experience Olympic-themed activities by skating on the Olympic Speed Skating Oval or barreling down the Mt. Van Hoevenberg bobsled/luge/skeleton track. Adventurous guests can ride a toboggan down a 30-foot high slide that's specifically designed to launch riders across Mirror Lake's icy surface. 
Situated between two lakes and ringed by Adirondack mountain peaks, Lake Placid beckons travelers to play outside all winter long with pursuits such as cross-country skiing and snowshoeing, pond hockey, dogsled rides, sledding and ice fishing. In addition, visitors can also ski and ride the greatest vertical in the east at iconic Whiteface Mountain.

###
Contact:
Carrie Gentile, communications coordinator
Regional Office of Sustainable Tourism
direct: 518.621.3665 or 518.523.2445 ext. 123