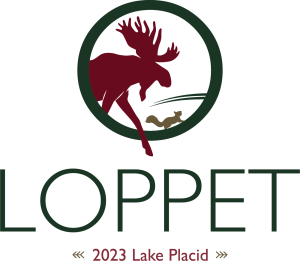 Lake Placid, NY – The New York State Olympic Regional Development Authority (Olympic Authority) announces that the Lake Placid Loppet cross country ski races are returning to Mt Van Hoevenberg on February 26, 2023.
The Loppet first began in 1983 and is widely regarded as a quintessential Nordic ski celebration and a long-standing favorite among enthusiasts across the U.S. and Canada. The full day of ski race events is open to all ages and abilities, with starts and finishes in Mt Van Hoevenberg's new stadium just outside its Mountain Pass Lodge.
The Loppet's two signature races are a 50k and 25k (or Kort), both of which can be skied in either the classic or skate skiing techniques, each with different start times. Additionally, the full day of Loppet events offers a series of Citizens Challenge Races at distances of 12k, 6k, and 3k designed for those new to racing or experienced skiers seeking a fun community event.
Although the 50k race is recognized as among the most challenging races in the world, many thousands of skiers have accepted the challenge of this demanding course. Both the 50k Loppet and the 25k Kort-Loppet courses are slightly modified versions of the 50k course designed for the 1980 Winter Olympics.
The Citizens Challenge Races follow slightly challenging but relatively flat courses that include only short uphill segments. These races provide participants with a friendly atmosphere on well-groomed trails among pristine Adirondack forests while also offering the best elements of the longer races. Any ski technique is welcome for these mass start events, designed for friends and families eager to establish healthy traditions.
The schedule of start times and activities at Mt Van Hoevenberg includes:
Saturday, Feb 25
4:00 pm – 7:00 pm | Bib Pick Up
Sunday, Feb 26 
7:00-8:00 am              Bib pick up
9:00 am                        Indoor Activities
9:00 am                        50k Classic
9:15 am                        25k Classic Kort
10:00 am                      50k Freestyle
10:15 am                       25k Freestyle Kort
11:30 am-4:00 pm       Live Music and BBQ
Citizens Challenge Races
1:00 pm                        12k Ski Challenge
1:00 pm                        6k Ski Challenge
1:15 pm                         3k Ski Challenge
The day's activities at the Lake Placid Loppet offer unique and compelling challenges for recreational and touring skiers as well as experts, and the Olympic Authority welcomes skiers of all levels to come test their endurance. The Lake Placid Loppet also serves as a qualifier event for the American Birkebeiner and is a member of the NENSA Marathon Series.
General registration for the 50k or 25k races is $75. Student and season-pass-holder registration is $70. General registration for the 12k, 6k, and 3k Citizens Challenge Races is $35, with student and season-pass-holder registration $30. 
To register for any of the Loppet events or for more details, including course maps, visit https://mtvanhoevenberg.com/event/lake-placid-loppet/.
The day will also consist of live music, bbq lunch, and Olympic-style activities in the Field House. Mt Van Hoevenberg will be open for recreational skiing throughout the event (weather dependent). Check the Conditions and Snow Report for updates.
### 
ABOUT
Established in 1982, the New York State Olympic Regional Development Authority (Olympic Authority) was created by the State of New York to manage the facilities used during the 1980 Olympic Winter Games at Lake Placid. The Olympic Authority operates Whiteface, Belleayre, and Gore Mountains, Mt. Van Hoevenberg, the James C. Sheffield Speed Skating Oval, the Olympic Jumping Complex, and the Olympic Center. As host to international, national, regional and local events, the Olympic Authority's venues are destinations and economic catalysts of the regions it serves.
Contact:
Darcy Rowe Norfolk, Director of Communications  
dnorfolk@orda.org  
518-637-3656