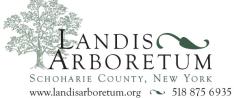 Esperance, NY -- An exploration of nine special gardens in the Burnt Hills/Scotia areas of New York State's extended Capital Region will be the focus of the Landis Arboretum sponsored annual Garden Tour on Saturday, July 18. This Arboretum classic is an annual fundraising event for the Landis Arboretum - and a
must
for gardeners and those seeking a civilized and affordable day of gardening insights. Participants can expect surprise and delight at every stop along the tour at gardens they have heard about - from gardeners they respect. Among the "finds" of the day:
This narrow and deep lot became a hidden garden "room."
Her passion? An extensive collection of conifers, dwarf conifers, and gingkos.
Intimate garden featured in Better Homes and Gardens and Schenectady Gazette.
Some of the most interesting, traditional, and exotic varieties of Hosta available.
It all started with a plastic-tetra pond kit she gave him as an anniversary present.
This private, large walled, well-established garden slopes toward the Mohawk River.
Most surprising...is that the land has been a garden in one form or the other -- for 250 years -- and continues to produce over-sized, beautiful plants.
A stately arbor covered with roses and clematis, large cast iron urns flowing with annuals...
Look for baby's breath, foxglove, astilbes, daylilies, Asiatic, stargazer and other lilies in bloom.
These gardens use perennials to showcase a large bonsai collection.
This is a day that Capital Region gardeners will not want to miss.
Tickets are $25 for all nine Gardens.
Arboretum Members, 20% off! Buy tickets online at
http://www.landisarboretum.org/
, or at Hewitt's Garden Center, Charlton Rd & Rt. 50, Scotia, NY. Tickets will include a detailed description of each property and a map.
About the Landis Arboretum: Multifaceted, Natural Jewel
The Landis Arboretum includes a nationally recognized collection of oaks and is registered with the North American Plant Collections Consortium (NAPCC). The Arboretum also is included in the New York State Route 20 Bluebird Trail, bringing even more birdwatchers to the site. The Arboretum's vast dark sky and wide horizons attract area astronomers to its meeting house and parking field for sky-watching events. The Arboretum is central to the New York State Wine and Spa Trails and in close proximity to historic Sharon Springs. And, it is a natural stop for those traveling to the high-volume tourist attractions between the Albany, Cooperstown, and Finger Lakes Regions. For more information about the Landis Arboretum visit
http://www.landisarboretum.org/
For more information contact: Thom O'Connor, 518-875-6935