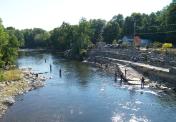 Pulaski, N.Y. -
Calling all anglers to the second annual Salmon River Fishing Derby on Oswego County's famed Salmon River! The derby runs from Friday, October 5 to Sunday, October 7 in conjunction with the annual Salmon River Festival in Pulaski. The tournament offers a grand prize, 100 percent payout for the largest king salmon caught over the three-day event. There will be daily weigh-ins and thousands of dollars in smaller prizes awarded for various additional categories. "The Salmon River records more record-size salmon caught in its waters than any river in the eastern United States," said Vernon Chamberlain, derby organizer and president of the Salmon River International Sportfishing Museum. "The beauty and hospitality of the region, the majesty of the river and the size of the salmon caught make our angler's experience uniquely rewarding. We hope this derby helps get that word out." All derby participants must be pre-registered. Registration and a weigh-in station will be located at the Ringgold Firemen's Dunbar Field at the end of Lewis Street, just off Route 11 in Pulaski. Chamberlain added, "Last year, 75 anglers competed for cash prizes in the derby. The big winner of the 100 percent payout was Kenneth Green from Altmar. He won $2,100 for bringing in the event's largest king salmon, which weighed in at 31.8 pounds." Daily cash prizes were also awarded for first-, second-, and third-place catches of the largest coho salmon and raffle winners took home donated prizes such as a bicycle, a fishing pole, a grill and a handmade rocking chair. This year, derby organizers once again worked with the Pulaski Ringgold Fire Department to assemble a wide selection of live entertainment and vendors with items and displays specific to the fishing industry. Fred Betts, curator of the Salmon River International Sportfishing Museum, invited many collectors to display their antique lures and reels and talk about the history of their collections. Visitors will find additional family-friendly attractions, entertainment, food and vendors located at the South Park on Route 11 in Pulaski as part of the 13th annual Salmon River Festival. "Together, both events offer a fun-filled weekend for visitors and residents," said Brian Leary, festival organizer. "Whether they are serious and aspiring anglers, families, or craft and antique lovers, we have something for everyone." The tournament features an impressive list of sponsors such as head-liners Lake Ontario Outdoors Magazine, All Seasons Sports, Team E Media Outdoors, Tug Edge Outdoors, Lakeshore Hardwoods, Salmon Hills and the Salmon River International Sportfishing Museum. Other sponsors include many fine small businesses in the eastern Lake Ontario region. "Area businesses were excited to see this event come to the region last year," said Chamberlain. "People from all over the Northeast came to the derby and many are planning to return again this year." The derby is a major fundraiser for the Salmon River International Sportfishing Museum, which will be open from 10 a.m. to 7 p.m. throughout the event. A guide takes guests through the extensive and unique collection of fishing memorabilia, which features a variety of antique and vintage items from around the world. The NYS DEC Salmon River Fish Hatchery on county Route 22 in Altmar will also be open from 8:30 a.m. to 3:30 p.m. each day. A significant attraction for first-time visitors to the region and anyone who loves fish, the hatchery provides an in-depth look at how New York State maintains and preserves this world-class fishery. For derby questions, contact Vernon Chamberlain at 315-298-2213 or by e-mail at
vernon@lakeshorehardwoods.com
. For rules and weigh-ins, visit the derby Web site at
http://www.salmonriverderby.com/
. For more information about upcoming events in Oswego County, call the Oswego County Tourism Office at 1-800-596-3200 ext. 8322 or go to
http://www.visitoswegocounty.com/
.
###
PHOTO CAPTION:
THE RUN HAS BEGUN! -
The 2012 fall salmon run has started and many are calling it the biggest run in years. Bring your pole and gear to land the largest catch in the second annual Salmon River Fishing Derby. The tournament runs from Friday, October 5 to Sunday, October 7 in conjunction with Pulaski's Salmon River Festival. For derby details, go to
http://www.salmonriverderby.com/
.