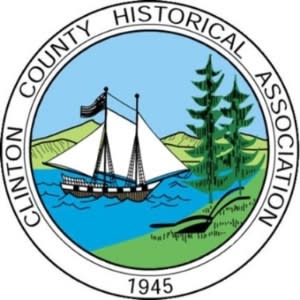 CCHA allows for limited sales December 12th
Plattsburgh, N.Y. – COVID-19 risks have closed the Clinton County Historical Association & Museum at 98 Ohio Avenue to the public for some months. As CCHA houses the largest selection of Clinton County history books (new and used) for sale in the North Country, there is a special opportunity now available to pre-order and purchase these local history books.
All preorders will be ready for pick up December 12th from 10 am to 3 pm.  Other arrangements might be available.  Suggested special gifts are one-of-a-kind ornaments for Fantasy Kingdom's Giant Castle, Bluff Point Lighthouse, the Witherill Hotel and Plattsburgh City Hall at $15 each, 2 for $25, 3 for 40 and 4 for $55.
Suggested book favorites are Bullets, Booze, Bootleggers and Beer – Story of Prohibition by Lawrence P. Gooley, Clinton County Civil War Record 1861-1865,  the Plattsburgh Military Reservation – A Pictorial History by Rich Frost and Melissa Peck, Remembering the Royal Savage by Don and Barbara Benjamin, and Welcome to the Witherill – A Retrospective on Plattsburgh's landmark hotel and the family who owned it by Susan Howell Hamlin.
Call 518-561-0340 for a complete listing of all books, both new and used, book prices, preferred pick up times and directions. Correct change or a check would be appreciated as we do not accept credit cards. Shipping is available for a small fee. COVID restrictions apply at the museum, and please wear masks for pick-ups.
###
Clinton County Historical Association
98 Ohio Avenue
Plattsburgh, NY  12903
Telephone (518) 561-0340
Museum Hours:  Wed-Sat 10-3
Email: director@clintoncountyhistorical.org
Website: www.clintoncountyhistorical.org
Facebook: Clinton County Historical Association
                   Clinton County, NY, Civil War Record - 1861 to 1865
                   Bluff Point Lighthouse at Valcour Island
Twitter: @CCHA_Museum