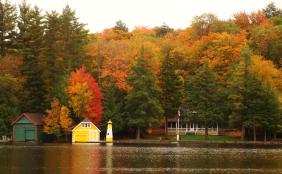 New York's official 2010 fall foliage color reports available online, by phone
Albany, NY
- Fall is one of New York State's busiest travel seasons, drawing tens of thousands of travelers to the state's roadways and waterways, small towns, scenic vistas, country fairs and harvest festivals. And it all takes place before the backdrop of spectacularly colorful autumn foliage. That means it's time for the dedicated team of I LOVE NEW YORK foliage observers ... or "Leaf Peepers" ... to swing into action, scouring New York's countryside to gather information for Empire State Development's Division of Tourism weekly fall foliage reports.                                     
Get Up-to-Date Fall Foliage Color Reports Online and by Phone
New York's weekly I LOVE NEW YORK fall foliage color reports begin Wednesday, September 8, and continue until the end of the foliage season, around the first week in November. Each Wednesday afternoon throughout the season, reports are updated online to provide the latest information on foliage color conditions in each region of the state. The weekly foliage report, a detailed map charting fall color progress, vantage points for viewing spectacular foliage, suggested autumn getaways and weekly event listings are available by visiting the I LOVE NEW YORK web site at
http://www.iloveny.com/
. Reports are also available by dialing, toll-free, 800/CALL-NYS (800/225-5697) from anywhere in the U.S., its territories and Canada. From all other areas, the number is 518/474-4116. For information on becoming a volunteer Leaf Peeper, e-mail your name, address and phone number to
foliage@empire.state.ny.us
.
Look for Foliage Updates on Twitter and Facebook
You can also get early foliage updates, plus access to each Wednesday's full foliage report, via I LOVE NEW YORK's Twitter (twitter.com/I_LOVE_NY) and Facebook (www.facebook.com/iloveny) pages. Also, check the I LOVE NEW YORK Flickr page (www.flickr.com/photos/officialiloveny) for photographs of this season's gorgeous fall foliage. I LOVE NEW YORK recently became the first state tourist organization to break the 30,000 followers mark on Twitter.
Foliage Means Business for New York State 
The spectacular colors of a New York State autumn mean more than just pretty scenery to those in the State's travel and tourism industry. The fall foliage season means big business for New York; it's one of the state's most popular travel seasons. This so-called "shoulder season" has become a favorite time for weekend getaways and week-long vacations, as well as the traditional drive to the country to view nature's colorful display.
New York State's Advantage
Why do people from all over the world head to the spectacular New York State foliage display? Unlike the rest of the country, the northeast is particularly blessed with a great variety of broad-leaved trees, which help give the region's foliage a spectacular color range. New York State has almost as many acres of such trees as the rest of the Northeast combined. The change in color from the bright greens of summer to the brilliant hues of fall follows a predictable pattern across the state. It begins high in the Adirondack and Catskill mountains in late August and early September, and spreads out and down across the hills and valleys of the state, ending on Long Island and in New York City in late October to early November. It takes about two weeks for the colors to complete their cycles in any given area, with peak brilliance lasting three to four days in any one spot.
How Leaves Change Color
Seasonal conditions and the resultant chemical changes in the leaves are the key factors in the timing and coloration of the leaves. Generally, clear, sunny days and cool nights with temperatures in the 40's bring about the most striking autumn colors. Three chemicals within the leaves - chlorophyll, carotenoids and anthocyanins - are involved in the annual color change process. As temperatures cool and the days shorten, cells at the base of the leaves disintegrate, blocking passages from the leaves to the branches and causing chlorophyll to decompose. Chlorophyll is what gives most plants their green color. As the chlorophyll fades, colors in the other pigments - the carotenoids and anthocyanins - come to the surface. Trees with leaves having a preponderance of carotenoids - like beech, birch and willow - turn varying shades of yellow. When anthocyanins predominate - as in the case of many maples, dogwoods and sumac - reds and purples appear.
About New York State
New York State features 11 beautiful vacation regions.  New York's attractions span from landmarks such as Niagara Falls, to the wine trails of Hudson Valley and treasures like the Baseball Hall of Fame in Cooperstown.  Whether it's wide-ranging outdoor activities for the whole family like fishing, hiking and boating, culinary wonders and farm-to-table fresh foods, or the rich history and culture of one of the 13 original colonies, New York State offers diverse activities for all travelers.  For more information visit
http://www.iloveny.com/
.  Media can find press releases and more at
thebeat.iloveny.com
.
###
Editor's Note to Meteorologists: If you would like to directly receive I LOVE NEW YORK fall foliage reports along with high-resolution versions of the weekly color progression map, please contact Eric Scheffel at escheffel@empire.state.ny.us or (518) 292-5274.
| | |
| --- | --- |
|  Contact:  | Eric Scheffel |
|   | Empire State Development |
|   | Phone: (518) 292-5274 |
|   | E-Mail: escheffel@empire.state.ny.us |