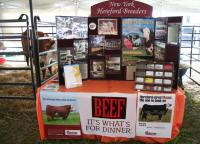 Lowville, N.Y.
- Looking for ways to spice up your beef for dinner?   Jean O'Toole of the New York Beef Industry Council will have tips and recipes to share at the September 7 Homesteading Fair in Lowville, NY. For example, the Mama Mia beef rub developed by the Council contains no salt; the Cutting Edge rub is suggested for making tasty tacos, fajitas and Mexican meatloaf.   The day-long fair at the Lewis County Fairgrounds offers 45-minute workshops on food and gardening, backyard poultry, small livestock, maple/forestry, live horsepower, and sustainable energy.   For advance tickets and more info, see
http://blogs.cornell.edu/ccelewis
or call Cornell Cooperative Extension of Lewis County at 315-376-5270.
###
Contact
: Michele Ledoux, CCE Lewis County, 315-376-5270 Publicist Kara Lynn Dunn, 315-465-7578,
karalynn@gisco.net