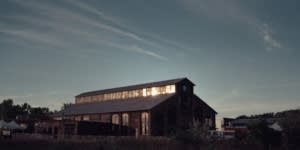 Thursday, August 9 2018 @ 7PM; Advance tickets $25

Hudson, NY - Legendary Montreal musical collective Godspeed You! Black Emperor will return to Basilica Hudson on Thursday, August 9th. The band, who last performed at Basilica in 2015, recently released their seventh full-length album Luciferian Towers on their own self-run record label Constellation. The show will mark the band's third performance at Basilica Hudson.

Formed in 1995, Godspeed You! Black Emperor is known for mesmerizing live shows and sense-rattling, wall-of-sound performances marked by orchestral dynamics, epic rock power, and clunky beautiful film loops. The band has featured as many as 14 performers and released 7 albums to widespread critical acclaim.

The show is a highlight in an already-packed 2018 season calendar at the multidisciplinary arts center. With further programs still to be announced, fans will find much on offer at Basilica, from the upcoming 24-HOUR DRONE festival (taking place April 28 - 29) to the acclaimed Basilica SoundScape weekend of music and art (September 14 - 16).

The show will serve as a fundraiser for Basilica Hudson. Funds raised will further Basilica Hudson's mission to support independent and innovative arts and culture. Tickets for Godspeed You! Black Emperor's performance go onsale Friday, April 6 at basilicahudson.org for $25 advance.

Native Montrealer, and Basilica Hudson Director and co-founder Melissa Auf der Maur said: "It's such an honor to have the Montreal clan return to our industrial church on the Hudson River for another evening of upstate sonic immersion and we are so grateful for their support."

With offshoots to the project including The Silver Mt Zion Memorial Orchestra and Tra-La-La Band, Hrsta, Fly Pan Am, Esmerine, 1-Speed Bike and Set Fire To Flames, GYBE returned to live performance in December 2010 following a seven year hiatus. Throughout Godspeed's 'post-hiatus' period, experimental filmmaker Karl Lemieux has been the band's primary creator and projectionist of 16mm film footage and loops. In close harmony with Basilica Hudson's commitment to furthering cross-disciplinary collaboration across all programs, an array of analog film projectors remains central to GYBE's live performances.

More information on all upcoming programs can be found at basilicahudson.org

ABOUT BASILICA HUDSON
Basilica Hudson is a non-profit multidisciplinary arts center supporting the creation, production and presentation of independent and innovative arts and culture while fostering sustainable community. Founded in 2010 by musician Melissa Auf der Maur and filmmaker Tony Stone, Basilica Hudson makes its home in a spectacular solar-powered reclaimed 1880s industrial factory on the waterfront of the historic City of Hudson. Weekend destination events comprise the core of Basilica Hudson's Immersive, avant garde music, performance, film, food and literary programming, alongside regular film screenings series, art exhibitions, and other community gatherings.

Basilica Hudson presents more than 35 programs each season, from one-night screenings to weekend festivals, anchored by major annual events including two music festivals and two large-scale marketplace events, as well as film screening series, art exhibitions, special performances, concerts, and literary and food-related events. The artistic program has taken shape through collaborations with many partners, visiting artists and friends, and is supported by adventurous audiences and community members. Each season, more than 75 local, national and international artists perform and present work at Basilica and 100+ local and regional businesses - farmers, chefs, collectors and makers of all kinds - participate in marketplace events, showcasing the region's artisanal and agricultural heritage. Basilica Hudson welcomes more than 40,000 local, regional and international visitors to programs and events each season.

Visit basilicahudson.org for more information on all upcoming events this season.

WEBSITE | FACEBOOK | TWITTER | INSTAGRAM
Press Contact: Kate Hewett
kate@basilicahudson.org