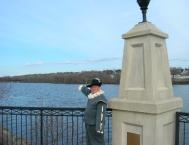 Special Tours Taking Place aboard the Albany Aqua Ducks & Trolleys
ALBANY, N.Y.(4/9/09)  -- The Albany Aqua Ducks & Trolleys are celebrating the 400th anniversary of Albany's 1609 discovery by offering special, first-person tours of the city by Henry Hudson re-enactors.
The first Henry Hudson guided tours will take place as Duck Season opens with two tours on Saturday, April 11 (2 p.m. and 4 p.m.) and another at 2:30 p.m. on Sunday, April 12. "We're youngsters compared to the historic city we show off on historic tours," said Albany Aqua Ducks President Robert Wolfgang. "This year marks our sixth season of tours. And, we've welcomed about 125,000 guests from near and far. This tour offers great insights into the city's history with a fun-loving Henry Hudson telling his tale of landing here 400 years ago," Mr. Wolfgang said during a press conference at the Albany Heritage Area Visitors Center at QUACKenbush Square. Albany Mayor Gerald D. Jennings welcomed Henry Hudson on his return to the Capital City "Leave it to the Ducks to bring Henry Hudson on board to show off Albany during our Quadricentennial Celebration," Mayor Jennings said. The Henry Hudson tours will be offered throughout the Albany Aqua Ducks' season -- from April 11 through Oct. 31. "Some tours will be guided by Henry. On others, he'll make a guest appearance. And, he'll also be visiting with guests aboard the Albany Trolley tours that begin on a daily basis from June through early September," Mr. Wolfgang said. In addition, Henry Hudson guides are available for special appearances at schools and civic events. Henry Hudson guides don dress typical of the 17th century in which Hudson (English by birth). explored for The Dutch East India Company when he discovered the river that bears his name and landed on the shores of what is now Albany. "After the English took over this area from the Dutch, they named the river after me (God Bless Them!), says the Henry Hudson tour guide as he explores the Hudson River aboard the Aqua Ducks. "As I said at the beginning of the tour," the Henry Hudson guide notes, "I only sailed as far as Albany because the river got narrower and shallower. I was concerned that the Half Moon (my ship) would run aground." Since they began operating in 2004, the Albany Aqua Ducks have boarded passengers from every continent, except Antarctica. "We're proud to serve as Albany's unofficial ambassadors. And, the  Henry Hudson tours offer a great, new way for everyone to find out why Albany is an amazing discovery," Mr. Wolfgang said. For more information about the new Henry Hudson tours, plus information about charters, group tours and special events offered by the Albany Aqua Ducks & Trolleys, call 518-462-DUCK (3825) or visit
http://www.albanyaquaducks.com/
.
About Albany's Aqua Ducks & Trolleys

The Albany Aqua Ducks operate the only amphibious tour company in Upstate New York. Starting in 2006, they added three trolleys to their fleet, offering additional opportunities for residents and visitors to enjoy the New York's Capital City. The Albany Aqua Ducks started operations in 2004 and offer 90-minute, guided tours of Albany that include a land excursion through historic its historic districts, with a "Splashdown" that gives a mariner's view of the city's skyline from the Hudson River.  And, they have welcomed more than 125,000 guests. Departing from the Albany Visitor Center in QUACKenbush Square, Albany Aqua Ducks transport guests in U.S. Coast Guard certified state-of-the-art HYDRA-TERRA amphibious vehicles.
###
Download Hi-Res Image:
hudson-at-river.JPG
Caption:
  The Albany Aqua Ducks & Trolleys start new Henry Hudson narrated tours on Saturday (4/11) as part of
Albany
's Quadricentennial Celebration.
One of the Henry Hudson re-enactors who will give first-person tours of the
Capital
City
is Peter Keyoskey, a retired educator from
Albany
.
MEDIA CONTACT:
Kathy Condon * Condon CommunicationsPH: 518-436-1103 * CELL: 518-441-0259 * E-MAIL:
kcondon@netheaven.com