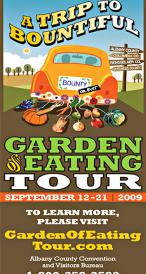 From September 12 -21, four counties of the upper Hudson Valley and Capital-Saratoga regions will be celebrating their wide variety of farm-fresh products and creative culinary delights that result from these sustainable products. For the second year Albany, Columbia, Dutchess and Rensselaer counties are working together to develop self-guided driving itineraries that feature delicious, creative and local products on the farm and at the table of many fine restaurants in the Upper Hudson region. The group has developed a website,
www.gardenofeatingtour.com
that highlights the farms, restaurants mapping their locations and providing sample itineraries and accommodation information. Some Albany restaurants that are participating are Yono's and dp An American Brasserie, The Century House, Victory Café, Melville's Mug, Normanside Country Club and Café Capriccio. "This is great opportunity to show our creativity while supporting our local producers," said Donna Purnomo owner of dp. Menu items featured include a trio of NYS cheeses which are a perfect start or finish to a meal. The trio includes Adirondack cheddar; Old Chatham Sheepherding Camembert and Nettle Meadow Farm mixed herb chervre all served with crostini, spiced nuts and cranberry compote. This menu item is available at Normanside Country Club. La Serre will feature Hudson Valley duck and the Century House will be serving a New York apple cobbler to round out their bountiful meal.
For more information
:
Elizabeth Bovill
518-434-1217 x300