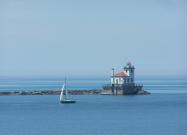 Oswego, N.Y.
- The H. Lee White Marine Museum has announced a three-part miniseries on the topic of the "Lighthouses of Oswego," featuring Ted Panayotoff, lighthouse historian and City of Oswego Lighthouse Committee chair who will discuss the various lights, the lighthouse keepers and related topics that spanned Oswego's rich maritime history. The series will be held at 1:30 pm on consecutive Saturday afternoons: September 17, September 24 and October 1, 2011.  The public is encouraged to attend one or more session.  "The Museum has been closely involved with the Lighthouse Committee and the restoration effort for several years." noted H. Lee White Marine Museum Executive Director and Lighthouse Committee co-chair, Mercedes Niess, This program has been included as part of our free History Lecture Series, which is in its tenth season." The first (September 17th) session will comprise general background on the subject, the role of lighthouses in Oswego's history and information on the 1822 light. Part two (September 24th) will cover the 1837 light, the Breakwater light (Beacon) (1889) and the Elevator light (1931). The final session, (October 1
st
) of this mini-series will entail information about the current West Pierhead Light (1934) including the restoration plans for the exterior. The H. Lee White Marine Museum is located at the end of the pier in the
Historic Maritime District
at the north end of West First Street in Oswego.  For more information about this program or other Museum activities, please contact the H. Lee White Marine Museum at 315-342-0480 or
info@hleewhitemarinemuseum.com
.  Also, visit the Museum at
http://www.hleewhitemarinemuseum.com/
and on Facebook.
###