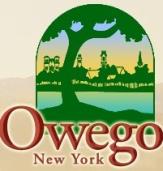 Owego, NY
-- The 3rd Annual "Lights on the River" Festival will light up Owego on Friday, December 4, from 5:30-8:30 pm in downtown Owego.  The lights and decorative trim will be turned on at 6:00 pm with a community countdown in front of the Courthouse Square (south side), followed by holiday festivities, food, entertainment and more in the shops, restaurants, streets, and Riverwalk concluding with a fantastic fireworks display at 8 pm at Draper Park. New this year will be ten "river flames" (bonfires in the River) that will sparkle and light up the river at night.  Also, the shops will be open and ready for your Christmas shopping as they exhibit their exquisite holiday merchandise, and the restaurants and cafes will be serving dinners, desserts and drinks. Bring your family, neighbors and friends!  It's the spirit of Christmas - in time for the holidays.  Here's the highlights!
2009 Activities
"Mistletoe Lane" - A giant mistletoe hangs inside the Gazebo in Courthouse Square "River Flames" - 10 little bonfires in the Susquehanna River behind Riverow along the Riverwalk 8:00 pm - FIREWORKS! - Along the banks of Draper Park, Front Street 5:30-8:00 pm  O'Tannenbaum Christmas Tree Display, Tioga County Hist. Museum "Greetings from Owego" lit sign along new Riverwalk "Best Dressed Store Window Decorating Challenge" Winner Announced Live Radio Remote sponsored by Clear Channel Radio - MIX 103.3 FM
Entertainment:
5:30-8:30 pm Ice Sculpture/Carving - TBD 5:30-8:00 pm Horse & Wagon Rides ($1 pp suggested) - start at the John Barleycorn Tavern 5:30-6:30 pm The Southern Tiersmen Barbership Quartet - strolling the streets 6:00 pm LIGHTS TURNED ON - switch thrown by ? - south Courthouse Square 6:00 pm LIGHTS TURNED ON at the Boys and Girls Club, Erie Street 6:00-7:00 pm Trace of Grace Family Singers - strolling streets 6:15-9:00 pm Santa Claus at ArtSpace Gallery, 179 Front Street - Pictures taken 6:30-7:00 pm Ensemble of M.A.D.2 Campers and Youth Choirs of the Owego United Methodist Church - on south Courthouse Square steps 6:30-7:30 pm Valley Four Barbershop Quartet - strolling streets 6:30-7:30 pm  Salvation Army Brass Band (11 members) - HSBC Parking Lot 7:00 pm Terpsi Dance Ensemble - M&T Bank Plaza 7:00-8:00 pm  Will Stafford, Juggler - strolling streets 7:00-8:00 pm  Four of Hearts Barbershop Quartet - strolling the streets 9:00-midnight - "Rhythm & Brews" Band at the John Barleycorn Tavern
Sidewalk Offerings:
Open Door Mission - serving donuts, chili, hot cider, coffee Royal Automotive - displaying new cars and offering refreshments at the Bridge 5:30-8:00 pm  Owego Kiwanis Club - serving hot chocolate and donut holes - in front of the John Barleycorn Tavern, Front Street Johnson Pools and Spas - serving hot refreshments & showcasing warm & cozy stoves - in south Courthouse Square St. Pat's Church/School - offering soup, front of Front & Center Kitchen Store, 188 Front. Elks' Lodge - offering hot dogs, hamburgers, chili For more detailed information and schedule of times, visit
www.lightsontheriver.com
. For more information on shopping and events in Owego, go to
www.owegolovesshoppers.com
.  For this and other events and festivals in Tioga County, go to
www.visittioga.com
 or call 1-800-671-7772. Don't forget to also stop at the Tioga County Historical Museum just down Front Street for their O'Tannenbaum Christmas Tree Displays.  There's over 100 Christmas trees decorated in different themes throughout the museum.  You have the opportunity to bid on any of them to take one or more home for the holidays.  For more information, go to
www.tiogahistory.org
.
# # #