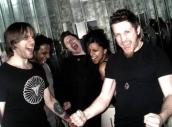 My Pet Dragon, Black Mountain Symphony, Headband Jack and The City Never Sleeps Highlight Lineup
Presented by Saratoga Performing Arts Center and WEQX Radio
Saratoga Springs, N.Y.
- Nationally recognized, New York City-based alternative rock band
My Pet Dragon
is one of several
top bands that will be performing live music for runners participating in Saratoga Performing Arts Center's "Rock & Run" 5K on Sunday, May 20 at 10:30 a.m. in the Saratoga Spa State Park. In total, the 5K will feature music by more than 10 top bands; a post-race party with entertainment and family activities follows. The run starts at SPAC at 10:30 a.m.; a one-mile Kids' Race kicks off at 10 a.m. Online registration is available at
http://www.areep.com/
. Proceeds from the event help underwrite SPAC's Vivienne Anderson Program, an initiative which provides underserved children with the opportunity to attend classical performances. "Our 'Rock & Run' is the perfect, high-energy kick off to our season. The enthusiasm of local runners, families and residents from around the Capital Region has made this unique 5K and post-race party a huge success in each of the last two years. This year's tremendous lineup of bands should translate into an even bigger turnout," said Marcia J. White, SPAC's President & Executive Director. "My thanks go out to the members of SPAC's Action Council for their hard work on behalf of this terrific event, which raises much needed funds for SPAC's programming and education programs." Drawing comparisons to Arcade Fire and Coldplay,
My Pet Dragon
is known for its
anthemic songs and powerful live shows led by singer/songwriter Todd Michaelsen and dancer/actress Reena Shah. They will be headlining the 2012 Breckenridge Beer Festival in Colorado in April. They are also a featured band on the Occupy Movement-inspired,
Occupy This Album,
along with Jackson Brown, Debbie Harry, Tom Morrello and other noted musicians. My Pet Dragon's newly released LP,
Mountains and Cities
, is currently receiving airplay on radio stations all across the United States. Other top regional bands participating for the first time in "Rock and Run" include:
§ Headband Jack - Offering a new twist on a classic sound, Headband Jack blends trademark vocal harmonies with a backbone of folk, rock and Americana. A mainstay at Putnam Den and Bailey's and a finalist in last year's "Battle of the Bands" at SPAC, the band is a Capital Region favorite.
§ Black Mountain Symphony -- Evocative of artists such as Fleetwood Mac, Guster and The Dave Matthews Band, Black Mountain Symphony is an eclectic five-piece band that combines their live sets with everything from classical music to Motown, blues and jazz.
§ Jenson Rhodes Band - A tribute band for Jenson Rhodes, considered by some to be the godfather of the alternative rock movement, this band's music is cathartic rock with a punk twist.
§ The City Never Sleeps - This Indie/Jazz Rock Band from Albany, NY was voted "Band of the Week" in June 2009 by GuerillaMagazine.com receiving praise such as, "The City Never Sleeps is a refreshingly hard to categorize rock outfit from [Albany, NY]... unsigned, relatively new on the music scene, but undeniably catchy."
Back by popular demand will be several bands and musicians who have participated previously in the event including 
Garland Nelson
,
Lost Cantina
,
Tamer Lane
,
Dirt Cheap
,
Kemp Avenue Band
,
Betsy and the Bygones
,
John Donvito
and
Tracy Corey
, who will sing the National Anthem at the start of the race. WEQX's
acclaimed morning on-air personality, Jeff Morad, will emcee for the first time. "WEQX is among the Northeast's top rock music radio stations, and a great partner to SPAC throughout the season," said White. "We are thrilled to have the opportunity to welcome Jeff to the first event of our season." Other features of the Rock & Run include:  
¨ performance/moisture-wicking shirts for the first 750 pre-registered 5K runners
¨ tickets to SPAC's Wine & Food and Fall Ferrari Festival for the top male/female finishers
¨ tickets to SPAC classical performances for the top three male and female finishers in each age category
¨ finisher awards for all children participating in the Kids' Race
¨ free, post race party with live music, refreshments and children's activities
    Early registration cost (postmarked by 5/14) for the 5K is $27 per person and $5 for the Kids' Race.  The general public may enjoy viewing the race or attending the post-race party free of charge.
About SPAC's Vivienne Anderson Program
Proceeds from Rock & Run benefit SPAC's Vivienne Anderson Children's Program, a special program which hosts underserved area youth at select matinee performances of the NYCB. The children visit the National Museum of Dance, meet with dancers from the company, and learn about a dancer's life. They view the performance after having been introduced to the story line, choreographer, and composer. It is the goal of the program that experiencing the arts in such a meaningful way, often for their first time, will help these children foster a lifelong love of the arts. The program is named for former Action Council President Vivienne Anderson who was a tireless advocate for children's education.
###
Contact
: Shane Williams-Ness, 518.584.9330 x 116 M:518.378.0295
shane@spac.org
  Lisa Hill, 518.584.9330 x 119 M:518.496.2882
lhill@spac.org
; www.spac.org