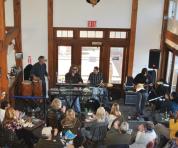 More Music Variety, 100 Performances Over Six Weekends, Great Special Offers
Riverhead, N.Y.
- Come enjoy live music and great wines in Long Island winery tasting rooms and other venues every weekend from February 8 through March 16, 2014 during Winterfest: Live on the Vine. This exciting and newly re-named program includes over 100 truly exceptional musical performances along with hotel, restaurant and transportation special offers. Also new this year: Purchase a special 'Festival Hopper' pass for the day, the weekend, or entire six week festival. See
http://www.liwinterfest.com/
for the full schedule of events and to get your advance tickets. Previously known as "Jazz on the Vine," the musical offerings are expanded this year to include blues, soul, rock and country music, hence the title change. The Winterfest: Live on the Vine series features a full line up of top level performers, including many Grammy recipients and Grammy-nominated artists. Multiple musical performances are scheduled each day of the six weekends at different times so visitors can plan to visit multiple winery concerts each day. In addition East End businesses are offering transportation and dining discounts along with great winter hotel and B&B rates and specially created 'Winterfest Getaway' deals. Live on the Vine is a project of East End Arts (EEA), the Long Island Wine Council (LIWC), and the Long Island Convention & Visitors Bureau (LICVB) with support from Suffolk County. "Suffolk County is a proud supporter of Winterfest: Live on the Vine.  Fine wines coupled with some of the finest jazz, blues, soul, and country music you'll find anywhere makes attendance at this year's Winterfest activities a must.  Now in its seventh consecutive year, Winterfest is possible due to the collaborative efforts of East End Arts, the Long Island Wine Council, the Long Island Convention and Visitors Bureau and the Suffolk County Office of Film & Cultural Affairs.  Take advantage of the special offers during this mid-winter music festival and enjoy all the East End has to offer," said County Executive Steve Bellone. The six weekend program was developed to generate visitation to Long Island's Suffolk County during the off-season.  "We're excited to be participating in this 7
th
edition of the Long Island Winterfest. The jazz theme has been very effective in drawing thousands of visitors to our region during the slowest time of the year. By expanding the program to include more music genres, Live on the Vine will appeal to an even broader audience. We expect that this year's attendance will easily surpass last year's results," said Steve Bate, Executive Director of the Long Island Wine Council. Long Island's wineries and many of its hotels and other venues are open year-round, serving as ideal venues for hosting the performances.  "Come mid-February visitation is traditionally slower on the East End of Long Island although many of our businesses are still open," said Kristen Matejka, director of marketing at the LICVB. "We hope people will come out for a quick getaway; to enjoy some great music and wines, dine at a local restaurant and stay for the weekend if they choose." Winterfest: Live on the Vine was conceived in 2006, and is well on its way to becoming a regional and even national attraction. The program was awarded the 2012 National Destination Marketing Award by Americans for the Arts and Destination Marketing International, and this year it received additional backing from New York State Regional Economic Development and has gained a major sponsor. "The 2014 Winterfest: Live on the Vine has made amazing progress in seven years," said Patricia Snyder, Executive Director of East End Arts. "With support from New York State Regional Economic Development and sponsorship by Suffolk County National Bank, we expect even more success as we expand our reach as well as diversity in music." Live on the Vine is pleased to welcome Suffolk County National Bank (SCNB) as the title sponsor of the music festival.  Michael R. Orsino, Executive Vice President, Chief Lending Officer, Suffolk County National Bank commented, "On behalf of SCNB, we are proud to present the 2014, Award Winning, Live on the Vine.  This program promotes a partnership and collaboration between the arts and business segments that strengthens the East End economy.  It is a pleasure to showcase our communities on the East End as we welcome thousands of visitors.  Coming from as far as New York City and beyond, visitors appreciate the music, wine, and all that the East End has to offer."  Mr. Orsino concluded, "It's a perfect fit for SCNB."  For more information, including the full schedule of performances and all special offers for Winterfest: Live on the Vine please visit:
http://www.liwinterfest.com/
.
###
Press contact:
Kathryn Simos 631.849.3517
events@eastendarts.org