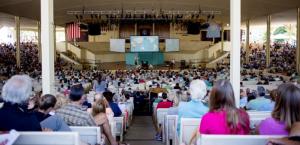 Chautauqua County, N.Y. – In light of social distancing mandates, some of Chautauqua County's attractions are offering ways for you to engage with them online. The Chautauqua County Visitors Bureau will continue to update this list as developments occur. If you enjoy the information found in this blog post, please help support the local tourism economy by sharing it with your friends and family via Facebook or email. 
If you are the manager or marketer for a Chautauqua County, NY attraction that is offering a virtual experience not listed here, please contact Megan L. Arnone, Marketing & Communications Coordinator - MARNONE@TourChautauqua.com
Entertainment
CHQ Watch Parties - Chautauqua Institution
Chautauqua Institution is trying out new ways to remain connected during this time of social distancing: CHQ Watch Parties on Facebook. Once a week, gather remotely to revisit some of the best Chautauqua lectures and programs of the past few years and to share our questions and comments with each other.  Chautauqua Institution is known for its ability to foster conversation, and now that conversation will be brought into your homes during a time when we all require a connection.
Chautauqua Institution will also present a series of five recordings in the coming weeks as a resource to families with children in this time of school closings and physical distancing. These arts-integrated lessons lead children, families, and teachers through the joy of "singing a story" as Chautauqua VP of Performing and Visual Arts Deborah Sunya Moore and her daughters share a musical storytime with you. All videos in this series were designed for pre-K through second grade students, explore relationships between reading comprehension strategies and introductory elements of music with colorful and fun picture books. The lessons are meant to be interactive for the whole family — gather 'round and sing your storytime!
For CHQ Watch Parties schedules and updates, please follow Chautauqua Institution on Facebook
The Healing Power of Laughter - National Comedy Center Anywhere
In this challenging time, the healing power of laughter is more important than ever. For the first time, the National Comedy Center has released select exhibit content for FREE for people to enjoy at home. The first is from an exhibit titled, The Healing Power, and features Jim Gaffigan, Maria Bamford, Patton Oswalt, Tig Notaro, Pete Holmes, Richard Lewis, Pete Davidson, George Carlin & more. You can watch it right now on the National Comedy Center's Facebook.
This is just the first release of exclusive comedy content that will be featured on our new online platform, National Comedy Center Anywhere. The platform will offer a mix of free museum content, and the opportunity to upgrade and access even more, as we continue our mission during the temporary closure of the museum. Stay tuned for the "National Comedy Center Anywhere" launch, scheduled to happen the week of April 6, 2020.
Professional Opera and Theatre in Your Living Room for FREE - 1891 Fredonia Opera House
Two of the 1891 Fredonia Opera House's program providers – the Metropolitan Opera and London's National Theatre – are both presenting encore screenings of some of their best-loved programs available for FREE viewing on the internet. ."
National Theatre announced it will present one popular past National Theatre Live production each week through April and May for FREE viewing on its National Theatre Live YouTube channel.  Each production will be available for one week only; the first four will be: One Man, Two Guvnors; Jane Eyre; Treasure Island; and, Twelfth Night.  This starts on April 2 with One Man, Two Guvnors.
Similarly, The Met is offering nightly FREE streams of many of its Met Live encore operas starting at 7:30pm each night.  The operas are then available for 20 hours. The productions can be accessed on the Met's home page at metopera.org. Offerings include Dialogues des Carmélites, Il Barbiere di Siviglia, Nixon in China, Don Carlo, Les Pêcheurs de Perles, Macbeth and Norma, with more to be announced.
Education
Learn About Space with the Martz-Khol Observatory
Perfect for adults and kids, the Martz-Khol Observatory has an online archive of past lectures ready for you to queue up. Learn about important topics including, Astronomical Contributors to Climate Change by Dr. Darren William - Astronomy and Astrophysics professor Penn State Behrend, Lunar Astronauts: Preparing Americ's Next Moon Landing Crew by Laurie Abadie - Deputy Manager for Communications, NASA Human Research Program, and more. Start learning! 
Learn About Local History with the Fenton History Center
This mid-19th century, Italian villa-style mansion was once home to New York State Governor and U.S. Senator, Ruben E. Fenton, and is listed on the National Register of Historic Places. Today it's the Fenton History Center, a valuable cultural institution that connects the past to the present by highlighting Jamestown and Southern Chautauqua County's vibrant history through thoughtfully curated exhibits, a genealogy library, veteran services, and educational programs. On a near-daily basis, the Fenton History Center's curator, Victoria Parker, will post videos on Facebook that educate viewers on local history and period artifacts. These videos are perfect for history buffs and schoolchildren currently learning from home. 
All About Nature with the Audubon Community Nature Center
While the 600-acre wildlife sanctuary and five miles of easy walking trails at the Audubon Community Nature Center may still be explored by visitors, you can also appreciate the glory of the spring season right from home. Many of the Nature Educators are taking to Facebook for grade school storytime, sharing nature facts, science project ideas, and giving tips on how you can enjoy the start of the blooming season right in your own backyard. There are also several inspiring blog posts on their website.
Virtual Tea Time with the Robert H. Jackson Center
The Robert H. Jackson Center will host their inaugural Facebook LIVE event, Tea Time with the Jackson Center, on Thursday, April 2, 2020, at 3 PM (EST). Watch live or go back and view on your own time. Jackson Center President, Kristan McMahon, will share what she is learning about the London Charter and Agreement and its role as the blueprint for the Nuremberg Trials as well as international criminal trials today. Use the chat box during the live stream to ask questions for Kristan to respond to. Follow the Jackson Center on Facebook to stay informed. 
Visual Arts
Online Art Challenges with Mayville Watercolors
Susan Giannantonia from Mayville Watercolors is offering FREE daily painting challenges via her personal website to help people destress and have fun. Some of the challenges include painting abstraction, practice making "Vincent marks," channeling Monet, magazine collage and then painting your collage, and more. Grab your supplies and get started.
Mail Order House Portrait Drawing Workshop with Chautauqua Art Gallery
Leslie, the owner and resident artist at Chautauqua Art Gallery, teaches a wildly popular Pen & Ink House Portrait class. Since we aren't able to gather in person, Leslie has made it possible for anyone to create their own Pen & Ink House Portrait at home. The portraits make a great keepsake or gift and are a wonderful way to express creativity and bust boredom. Purchase the workshop, which includes all the materials needed for the project, through the Chautauqua Art Gallery website.
At-Home Happy Hours
Virtual Happy Hour with 21 Brix Winery
Every #StayInSaturday at 7 PM (EST), 21 Brix Winery will be hosting a Facebook LIVE Virtual Happy Hour. If you live in Chautauqua County, you can plan ahead and order home-delivery their weekly featured Yancy's Fancy Cheese & wine selection so you can participate in the discussion of the pairing notes. Anyone can have 21 Brix wine shipped directly to their door (State delivery guidelines still stand.)
Follow 21 Brix Winery on Facebook.
Virtual Happy Hours and Beer Education with Southern Tier Brewing Company
Southern Tier Brewery and sisters, Bold Rock, Sixpoint, and Victory, plan to bring a virtual bar to your home. Each week they will host fun online sessions that bring together our amazing community around beer education, bottle shares, bar trivia, and more. The Taproom Live Facebook group is a meeting place where Bold Rock, Victory, Sixpoint and Southern Tier will create a full slate of Happy Hour programming including:
Guest appearances from legendary Victory Founder Bill Covaleski
Industry takes from experts and media
Inaugural 'first tappings' of some of our new releases
Guest classes and sessions from some of our awesome partners
Join the Taproom Live Facebook group to participate. 
Stay Active
At-Home Yoga with Samsara Yoga Center
Samsara Yoga Center in Jamestown is offering FREE Facebook LIVE streaming and Zoom meetings of their popular Hatha-style yoga classes. Classes range from yin, restorative, and chair yoga, to heart-pumping vinyasa. Classes are appropriate for all levels. Donations of any amount are gratefully accepted. Take a LIVE class or stream a past class via the Samsara Yoga Center Facebook page.
Explore
Discover Chautauqua County with the Chautauqua County Visitors Bureau
Take a virtual tour of some of Chautauqua County's most scenic destinations on our YouTube Channel or view the digital edition of the 2020 Chautauqua County Travel Guide. Past visitors, second homeowners, local residents, and small business owners are also encouraged to participate in our online conversation, #TourChautauquaMoment. All you have to do is share a photo and brief summary of one of your favorite Chautauqua-Lake Erie Region memories. Learn more & share your story at TourChautauqua.com/Moments.
Photo Caption: Chautauqua Institution's Assembly Season Lecture Platform, Chautauqua Amphitheater – Credit: Chautauqua Institution
###
Contact: Megan L. Arnone, Marketing & Communications Coordinator
Chautauqua County Visitors Bureau
Cell: 716.487.6393