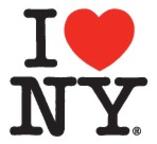 Travel Trade Partnership with I LOVE NEW YORK in Toronto, Ottawa & Montreal
Albany, NY -
Representatives from I LOVE NEW YORK, New York State's tourism agency, joined by tourism personnel from regions and destinations across the state, will be in Canada this week, meeting with media and various representatives of the Canadian travel industry in Toronto, Ottawa and Montreal. Their objective will be to introduce Canadians to New York's iconic destinations, as well as its lesser known gems, and inform them of the great values available for affordable travel. "Canadian travelers are a key source of our tourism revenue, with more Canadians visiting New York each year than any other state," said Thomas Ranese, chief marketing officer for Empire State Development (ESD), which administers the I LOVE NEW YORK program. These receptions are the perfect opportunity to highlight all the great things to see and do here and will hopefully spur even more cross-border visits - and tourist dollars - to the Empire State." International Travel is one of the largest exports of services for the United States. According the U.S. Dept. of Commerce, Canada is the largest inbound travel market for the United States, accounting for 32% of international visitors and 13.14% of visitor spending in 2008. Canada ranks first in visitors to the U.S. (18.9 million); first in spending (US$ 18.7 billion); and first in balance of trade surplus (US$11.36 billion). According to Statistics Canada, a statistical consulting group, the number of Canadian tourists staying overnight in New York State grew 31.5% between 2004 and 2007, the most recent year for which figures are available. A slight decline in visitor volume from Canada to the U.S. is expected in 2009 due to the economy and exchange rate, however, in 2010 the forecast is expected to rebound and Canadian visitation to the U.S. may meet or exceed the record of 1991 which was 19.1 million. According to Statistics Canada, New York State is the most popular U.S. destination within the U.S. for Canadian travelers and commands a nation-leading 17% share of visitors. In 2007, the latest year for which figures are available, nearly three million Canadian travelers to New York State spent $918 million (Canadian). Receptions with presentations for the media and travel trade will take place in the three key Canadian markets. The Toronto reception will be held at Casa Loma on Aug. 18; the Ottawa reception Aug. 19 at the U.S. Ambassador's residence; and the Montreal reception on Aug. 20 at Mt. Stephen Club. Attendees at each reception will have the opportunity to meet New York State tourism officials, including Thomas Ranese, along with I LOVE NEW YORK's tourism partners, and will be updated on New York's tourism industry. Several luxury weekend trips for two will be given away, as well as other valuable prizes. "Coordinated marketing efforts between the state and our local partners are vital to a healthy tourism industry, particularly in economically-challenged times" said Ranese. By maintaining active partnerships with localities we can better spread the message about our wonderful travel destinations and money-saving offers, making every tourism promotion dollar go even further." These promotions have been made possible with the collaboration and support of various offices in Canada, including ESD's Toronto and Montreal offices and the Toronto-based Discover America Committee, a Canada-wide travel trade association of businesses promoting travel to the United States, of which I LOVE NEW YORK is a member. The U.S. Commercial Service, which has previously helped I LOVE NEW YORK's marketing activities in the U.K. and Germany, was instrumental in facilitating the availability of the Ambassador's residence through their office at the U.S. Embassy in Ottawa. Presentations in each city are designed to highlight regional tourism assets and activities, as well as provide information on travel deals, and familiarization tour opportunities for travel writers. For example, in addition to spotlighting their more than 100 wineries and convenient wine trails, representatives from the Finger Lakes will also be providing information on their world-class attractions, such as the Corning Museum of Glass, and the New York Wine and Culinary Center, and a series of upcoming fall media tours called "Living Art to Fine Art: Guided Tours Through the Beauty of the Finger Lakes." Participating will be representatives from the following New York tourism agencies: Buffalo Niagara Convention & Visitors Bureau, Westchester County Tourism, NYC & Co., 1000 Islands International Tourism Council, Oswego County Tourism Office, Canal New York, VisitRochester, Steuben County Conference & Visitors Bureau, Finger Lakes Tourism Alliance, Great Lakes Seaway Trail, Syracuse Convention & Visitors Bureau, Saratoga County Chamber of Commerce, Adirondacks Regional Tourism Council, Lake Placid/Essex County Convention & Visitors Bureau, and Champlain Shores Visitors & Convention Bureau.
About New York State
New York State features 11 beautiful vacation regions.  New York's attractions span from landmarks such as Niagara Falls, to the wine trails of Hudson Valley and treasures like the Baseball Hall of Fame in Cooperstown.  Whether it's wide-ranging outdoor activities for the whole family like fishing, hiking and boating, culinary wonders and farm-to-table fresh foods, or the rich history and culture of one of the 13 original colonies, New York State offers diverse activities for all travelers.  For more information visit http://www.iloveny.com/.  Media can find press releases and more at thebeat.iloveny.com.
# # #
CONTACT: Eric Scheffel Empire State Development (518) 292-5274
escheffel@empire.state.ny.us