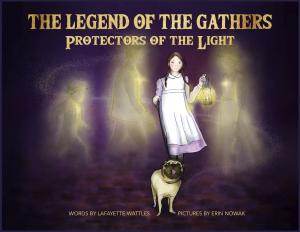 Corning, NY — It's not every day you can explore local history through something new, but this holiday season the Steuben County CVB will be launching the release of a brand new fully illustrated picture book inspired by a very significant piece of local history. Titled The Legend of the Gathers: Protectors of the Light, the picture book puts a supernatural spin on a very real event that happened in Corning in the late 1800s.
When inventor Thomas Edison received patents for his incandescent lamp back in 1879, and again in 1880, he needed someone to make the special glass containers. Historic accounts vary as to when Edison and Corning Glass Works started working together, but in researching this historic collaboration, the CVB discovered a sense of mystery surrounding the identity of a young shop boy who it seems actually blew the first glass bubble in Corning.
The beautifully illustrated 40-page picture book is set in Corning in the year 1880 and follows the adventures of young Jacklyn "Jack" Styles and a rather curious pug named Fetch as they discover mysterious lights appearing throughout Corning. And mysterious strangers, too. Legendary phantom folk called The Gathers who are rumored to appear each October with the aim of getting light out into the world. 
The story is written by local author Lafayette Wattles and illustrated by Erin Nowak, a regional artist out of Syracuse. Both are also members of the Society of Children's Book Writers & Illustrators (SCBWI).
The project started back in 2018 when the Steuben County CVB partnered with Corning's Gaffer District and Urban Corning to find a creative way to provide support for several small and independent events taking place in Corning during October. Most of the events were related to Halloween (storytelling at the Southeast Steuben County Library, a haunted storytelling evening at Heritage Village of the Southern Finger Lakes, Trick or Treat in Corning's Gaffer District, an Urban Arts Crawl, and other small events). Since the events were run by different businesses and organizations they were disconnected from each other and sometimes went unnoticed. The hope was to find a way to tie them together somehow and, as a result, give them a bit more weight. 
"We searched for some aspect of Corning's rich history," says Dave DeGolyer, Communications Manager for the CVB, "that might have a supernatural element. We didn't discover any mad scientists or alien encounters, however. What we did discover was Corning Glass Works role in making the first bulbs for Edison. Some accounts alluded to a young shop boy who blew the first glass bubble. His identity was mysterious because later three different men apparently claimed to have been the boy. That was all we needed to make the mysterious boy one of The Gathers."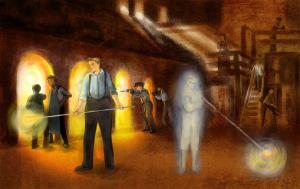 The picture book is a story about glass, and also a story about light. One hope, in 2020 especially, is that folks might read the book and be inspired to be a source of light for others through acts of kindness or by sharing joy. 
Around the fictional Legend, the CVB and the other organizations built The Days of Incandescence, a multi-day celebration of Corning's place in history. Various live performances were also developed by local artists including a reenactment of The Legend in Centerway Square and historic walking tours. While during 2020, the organizations were not able to take advantage of the momentum created over the past few years, they were able to get the book completed and it is now available for purchase.
The CVB is excited that some local shops will carry copies of the book, including Card Carrying Shop and Connors Mercantile on Corning's Market Street. Additionally, it will be for sale at the Corning Information Center, also on Market Street. The retail price is $12.99 and the book is currently available online (through Amazon, Barnes & Noble, Walmart). You can learn more details here or visit CorningFingerLakes.com/events/days-of-incandescence/story.
About the Writer - Lafayette Wattles:
Nominated for a Pushcart Prize for poetry three times, and twice selected to the Best of the Net Anthology for poetry, Lafayette Wattles has a Master of Fine Arts in poetry and in writing for children. He has published over 140 poems and has received a Ucross Fellowship, a grant from the Arts Council of the Southern Finger Lakes,  as well as several awards including the Best in Show Catherine Connelly Award (multiple times) for his poetry and the Jesse Stuart Award for young adult fiction. 
About the Artist - Erin Nowak: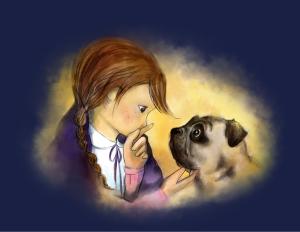 A graphic designer and art director for more than 20 years, Erin has experience in children's\ publishing, higher education, magazines and more. Recently she won First Prize in the 2019 Syracuse Poster Project with an illustration and design that features Syracuse's iconic State Tower Building. As an artist, Erin is inspired by history, architecture and culture and she incorporates that interest into her work as characters themselves. That certainly comes through in her illustrations for The Legend of the Gathers. 

Illustrations by artist Erin Nowak
###
Corning and the Southern Finger Lakes (aka Steuben County Conference & Visitors Bureau) was established in 1994. As Steuben County's official tourism marketing agency, our mission is to stimulate the tourism economy through authentic storytelling, supporting & developing destination amenities, and connecting visitors to the Southern Finger Lakes. Steuben County is home to the World's Most Beautiful Wine Region (Budget Travel), America's Coolest Small Town: Hammondsport (Budget Travel), and one of the Most Fun Small Towns: Corning (Rand McNally). It has also been recognized as a top value destination (ShermansTravel). 
Contact:          Dave DeGolyer, Communications Manager
                         Corning and the Southern Finger Lakes 
                         1 West Market Street, Suite 201
                         (607) 426-5371 (cell)
                         CorningFingerLakes.com