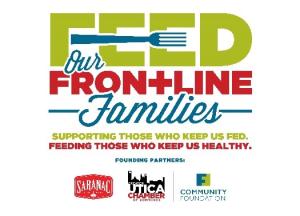 To Support Local Restaurants and Frontline Workers
Utica, NY (April 22, 2020) - Feed Our Frontline Families is an initiative founded by three partners: F.X. Matt Brewery, the Greater Utica Chamber of Commerce and The Community Foundation of Herkimer and Oneida Counties. The goal of this initiative is to inject cash flow into area restaurants, helping them to stay in business and keep staff employed, all while ensuring frontline workers get what they need.
Donations will be collected through feedourfrontlinefamilies.com and managed by The Community Foundation to purchase gift cards in increments of $50 to area restaurants.  The Greater Utica Chamber of Commerce will oversee the purchase of gift cards and work with The Community Foundation and Saranac Brewery to distribute them right into the hands of frontline workers.
"As a company who was founded in Utica 132 years ago, we strongly believe in supporting our community all the time, but especially in times of need," said Fred Matt, president of F.X. Matt Brewery.  "As a local brewery, we see the toll this virus is taking on our customers in the restaurant industry, and as a former board member at St. Elizabeth's Hospital, I know the impact this is having on the healthcare industry.  I knew we needed to help, and I'm very proud to announce this initiative that will support our local economy and feed the families of frontline workers."
Organizers hope the community will join in to make donations, small or large, to support healthcare workers, first responders and other essential workers and their families. For every $50 donated, a gift card will be given to a local hero to help put food on their table so they can focus on continuing to keep the community healthy!
"It has been our mission since the beginning of the pandemic to help as many businesses as possible stay open," said Meghan Fraser McGrogan, executive director of the Greater Utica Chamber of Commerce.  "The Chamber has worked together with our partners to deliver the necessary tools to make Feed Our Frontline Families a reality.  We are proud to launch this initiative as it helps us achieve our ultimate goal to keep local commerce moving, and to help it to grow as we move forward.  Moving forward depends on the health and safety of our community, and the support of these businesses."
"Our organization has seen firsthand how our community pulls together and rallies through times of crisis," said Alicia Dicks, president/CEO of The Community Foundation. "This pandemic, though very different from anything we've ever experienced, showcases yet another example of our community stepping up to the plate and being there to support each other during these trying times. This program is just a small way to say thank you to these important essential workers."
Donations can be made by visiting feedourfrontlinefamilies.com. All donations are tax deductible to the extent allowed by law. No donation is too small—a simple $5 donation will go a long way.
This initiative was founded by F.X. Matt Brewery, the Greater Utica Chamber of Commerce and The Community Foundation and is supported by Indium Corporation, Human Technologies and Ed & Ed Business Technology.  To find out more about this campaign and how to participate, visit feedourfrontlinefamilies.com.
###
Contact:
Meghan Fraser McGrogan
mmcgrogan@greateruticachamber.org
315-724-3151 x234