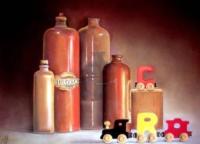 Free art exhibition, July 13 - August 10, 2012
Pelham, N.Y.
-  Pelham Art Center is presenting its highly popular Faculty and Student Showcase, an annual exhibition featuring selected artworks in a variety of mediums by the Art Center's distinguished teachers and enthusiastic students. Many of these works will be available for sale to the public. This exhibition is a great opportunity to see and buy original and reasonably-priced works from emerging and established talent. Since its founding in 1970, the Pelham Art Center faculty has grown as the Art Center has offered more courses in exciting new mediums to its students of all ages. From beginners to accomplished artists, students who want to explore their creative potential have flourished by working with Pelham Art Center's instructors, all of whom are also practicing artists. More than 1,300 students, from three to ninety-plus years old, attended over 100 visual art classes and workshops offered at the Art Center this past year. These classes are taught by more than twenty art educators, many of whom are participating in this exhibition alongside their students. This free exhibition is on view from July 13 through August 10, 2012. The Opening Reception will take place on Friday, July 13, 6:30-8:00 p.m. This event is free and open to the public. During the opening, visitors and prospective students of all ages may participate in a free all-age art workshop held in the studios. In addition, the public is invited to meet the teaching artists, discuss course offerings with them, and see their varied and accomplished artworks.
###
Pelham Art Center 155 Fifth Avenue Pelham, NY 10803 914-738-2525
info@pelhamartcenter.org
Hours: Tuesday-Friday, 10-5pm; Saturday, 10-4pm Directions: Located 5 blocks from the Hutchinson Parkway exit 12 and 2 blocks from the Metro North Pelham stop Pelham Art Center receives funding from ArtsWestchester, with support from Westchester County Government; New York State Council on the Arts with the support of Governor Andrew Cuomo and the New York State Legislature;Westchester Jewish Community Services; Nurse's Network of America; Town of Pelham; Strypemonde Foundation; New York Multi-Arts Centers Consortium; New Rochelle Campership Fund; Bistro Rollin; Prospect Hill Lunch Time Enrichment; Amani Charter School; Robin's Art+Giving; Target; Verrill Foundation; Westhab; Yellowbook; Members; and Annual Fund Donors.
Contact
: Laura Koo Nicholas, Gallery and Public Program Manager ph 914-738-2525, fax 914-738-2686 gallery@pelhamartcenter.org
Photo
: Bruce Withers (PAC student), RC, 2011. Image courtesy of the artist.