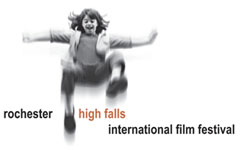 ROCHESTER, N.Y.
(May 6) RochesterTalent.com, in association with the Rochester High Falls International Film Festival (RHFIFF), is pleased to announce the winner of the 2009 "Screenplay Live!" Screenwriting Competition, Zoje Stage. Zoje's script, titled
The Machine Who Loved,
is the story of a woman who uses her life savings to create the man of her dreams - an artificial life form tailored to her every specification. When he begins displaying a range of turbulent emotions she is forced to choose between soldiering through with the relationship, or having him destroyed.   "This script is a culmination of my fascination and dislike of the film
A.I..
 I loved the family dynamic of living with a being the was 'made to order' but instead
A.I.
lost that focus. If you write a list of all of the things you want in a mate, is that what you really want?" "Screenplays are the foundation of a film," stated Eric Cubitt, owner of RochesterTalent.com.  "to understand the process of directing and acting, a screenplay reading is an ideal place to begin." A staged reading of
The Machine Who Loved
will be performed as a part of the regular program at the upcoming Rochester High Falls International Film Festival, scheduled for May 13th through 18th, 2009. Stage will have the opportunity to discuss her work with the audience and cast members immediately following the reading. "It is a special opportunity for Rochester to see the direct link between the written word and how it gets translated in a reading.  This is crucial to the synergy between the actor and writer," states the
Honorable Marilyn O'Connor
, reviewer of this year's screenplay admissions.  "My surprise was finding this talent in our own backyard." Zoje Stage won a 2008 Fellowship in Playwriting/Screenwriting from the New York Foundation for the Arts for her screenplay
Teddy Bear.
She is also a two-time semifinalist for the Nicholl Fellowships with her character driven dramas
The Opposite of Secret
and
Monster
. As a writer/director/editor, her films include the documentary short
Best of Luck
("an amusing take on the travails of aspiring writers" - the
New York Times
) and the feature length mockumentary
Happy Walter
("witty" -
Pittsburgh City Paper
). Ms. Stage is a theatrically-trained and former professional actor. Screenplay Live! Is in its fifth year as a part of the film festival, where it was originated by Fairport Native Gordy Hoffman as part of his annual, national BlueCat Screenwriting Competition.  The new incarnation of Screenplay Live! For 2009 was conceived by Eric Cubitt, and focuses on New York State writers.  Tickets to Screenplay Live! and other films, are available online at
http://www.rochestersmoviefest.com/
, or at Spot Coffee from noon to 9 p.m. seven days a week starting May 6
th
.   Tickets will also be available at the door.
###
Media Contact:
Rosie Taravella 
585-279-8307