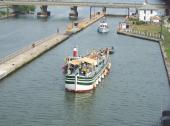 Oswego, N.Y.
-
Mark your calendars to celebrate the Oswego Canal Festival over Labor Day weekend. The whole family will enjoy crafts and activities, historic presentations, music, food and more from Saturday, September 1 through Monday, September 3. Festivities run from 11 a.m. to 5 p.m. in Oswego's Historic Maritime District on West First Street Pier. The highlight of the festival will be a visit by the Lois McClure, an1860s canal schooner that will be docked on the pier near the H. Lee White Marine Museum. "It has been five years since the Lois McClure last visited Oswego and we are all excited about her return," said Mercedes Niess, the museum's executive director. "The boat was built by the Lake Champlain Maritime Museum to depict 19th century canal ships that both sailed on open water and moved people and goods through the canal systems. This makes her a perfect fit for our canal festival." This historic vessel is making the voyage to commemorate the bicentennial of the War of 1812. In addition to Oswego, the Lois McClure will visit the ports of Ottawa and Kingston, Ontario; Montréal, Québec; and Sackets Harbor, New York before traveling back to Lake Champlain where she will make stops at Essex, New York and Vergennes, Vermont. Neiss said, "Many ports on their tour either had fortifications significant to the War of 1812 or played an important role in supplying naval ships to the American fleet during the war." The Lois McClure will be open for free public tours during festival hours from 11 a.m. to 5 p.m. For more information about the Oswego Canal Festival, call the H. Lee White Marine Museum at 315-342-0480, or find them online at their Web site
http://www.hleewhitemarinemuseum.com/
or Facebook page.
-30-
PHOTO CAPTION:
LOIS McCLURE RETURNS TO OSWEGO -
The Lois McClure, a full-scale replica of a 1860s canal schooner, will visit the Oswego Canal Festival at the Historic Maritime District from Saturday, September 1 through Monday, September 3. Free tours will be held from 11 a.m. to 5 p.m. each day.
-30-
Contact
: Mercedes Niess, executive director, H. Lee White Marine Museum, 315-342-0480,
info@hleewhitemarinemuseum.com