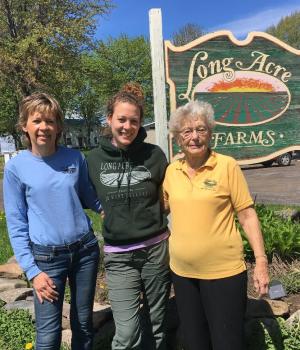 Macedon, N.Y. - There is a lot of pride in a farm that has remained in the same family since the 1920's and Long Acre Farms is celebrating the arrival of the 4th generation with a Grand Re-Opening Celebration on May 20th and 21st.  "We have spent all winter remodeling and updating our Farm Market and Ice Cream shop this winter to accommodate the vision of the next generation," states Joan Allen, owner/partner.  "My husband Doug and I are thrilled to welcome our daughter back to the farm and with that we realized we needed some changes."  The newly enclosed and expanded market and ice cream shop adds additional retail and work space along with heating and air conditioning to extend the season.  The outdoor seating areas will be updated as well to accommodate a woodfired pizza oven.  "We put off major renovations not knowing if we had any of our children interested in coming back to the farm," adds Allen "but when Sarah Allen Henning and her husband Matthew moved back from Pennsylvania we jumped right in."
"I grew up working in our family business and had no desire to return after completing my college degree so I headed to the cooperate world," states Sarah Henning. "But after years of working for someone else the desire to be my own boss and the family friendly lifestyle pulled us back to the family farm. I am fortunate that my parents are giving me the same opportunity that they were given – a chance to add my own vision to the farm."  In addition to the newly remodeled market guests will see more local products, gluten and vegan options, artisan breads as well wood fired pizzas that will be offered during special events.
Long Acre Farms was established in the 1920's as a dairy farm that also grew many fruits, vegetable and grains that was very typical of that era.  They. The second generation sold the dairy in the 1960's and changed the farm focus to a cash crop farm growing over 1000 acres of vegetable and grains under contract to canning factories in the area.  The 3rd generation opened the farm market in 1993 and is best known for the large corn maze that is build each year although with addition of wedding and corporate events is has developed to much more than just the maze.  This year the theme of the maze, "20 years of Twists and Turns" will depict the 4 generations each with their unique vision for the farm.
"We realized many years ago that to stay in the agritourism business you have to adapt and add something new every few years to keep people coming back," stated Doug Allen.  "From a small farm market, to an agritourism farm with a winery I think we have done ok – I can only imagine what this may look like 10 or even 20 years from now."
Long Acre Farms Grand Re-opening Celebration will be May 20th and  May 21st from 10am – 7pm.  There will be lots of free food samples, Free admission to the Back 40 and sale pricing.  More information can be found at www.longacrefarms.com or by calling 315-986-4202
###
Contact:
Joan Allen
315-986-4202