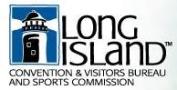 Hauppauge, N.Y.
- For the second time in three years one of Long Island's beaches has taken the number one spot on the annual Top Ten Best Beaches list by noted by coastal expert Dr. Stephen P. Leatherman (aka Dr. Beach), a professor at Florida International University.   Main Beach in East Hampton was named 'Best Beach' 2013 on the annual Top Ten list, which includes other exceptional beaches in Florida, Hawaii, the Carolinas and Massachusetts. A lovely example of Long Island's 100-plus miles of pristine ocean beach coastline, Main Beach in East Hampton was cited for its sparkling surf, idyllic setting, white sand, water temperature, and cleanliness on a list of 50 beach judging criteria. The honor is especially noteworthy considering the challenges Long Island overcame in getting its beaches ready for summer following a severe storm season that took its toll on local beaches and communities. Coopers Beach in Southampton was named Top Beach in 2010. "This beach was heavily eroded by Super Storm Sandy and subsequent winter storms, yet it has largely recovered.  The proud pavilion at Main Beach was little affected because it was set back several hundred feet from the water's edge," Dr. Leatherman said.   Main Beach in Long Island's Suffolk County
is located in East Hampton, a quaint village that dates back to the 1640s. At the latter half of the 19
th
century it became a noted artists' colony. Today it is home to many celebrities and NY residents who have built large summer estates that complement the agrarian and historic character of the area. One of the most enjoyable ways to get around town is bicycling, which also avoids paying the pricy parking fee, Dr. Leatherman said. Main Beach is just one of many spectacular local, county, state and national park beaches that run along Long Island's shoreline.  For information about visiting Long Island call: 1-877-386-6654 ext. 210 or request a free Travel Guide at
www.discoverlongisland.com/tg210
. Top Ten Beaches list at:
http://www.drbeach.org/
###
The Long Island Convention & Visitors Bureau (LICVB) was established in 1979 as the official tourism promotion agency for the destination's travel and tourism industry. The LICVB contributes to the economic development and quality of life on Long Island by promoting the region as a world-class destination for tourism, meetings and conventions.
330 Motor Parkway, Suite 203, Hauppauge, NY 11788 P:(631) 951-3900  f: (631) 951-3439
Contact:
Kristen Matejka Director of Marketing LICVB&SC 631 951-3900 xt.317