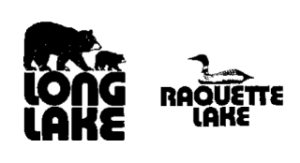 Long Lake, N.Y. – The Town of Long Lake has opened phase two of the Mt. Sabattis Mountain Bike/Shared-Use Trail system, adding another two plus kilometers of trails to the existing two kilometers of trails.
The two new trails include an intermediate climbing trail from the base parking lot up from the Mt. Sabattis Recreation Area Tennis Courts and Geiger Arena leading up to the Pavilion parking lot.  The second expert trail leads off from the established Black and Blue intermediate trail and crisscrosses the fields and woods before reaching the Mt. Sabattis Overlook and scenic view of Long Lake. 
Trail names continue to pay homage to the Rolling Stones. The climbing trail is named Start Me Up, and the expert trail is named Paint It Black. 
Start Me Up, the climbing trail, accesses the main trail system by diverting bikes off the Pavilion Road with the trail start leading from the tennis courts up through a wooded trail. Start Me Up features a flowy pump section allowing the rider to carry speed without pedaling. This trail climbs through the woods, along hardpacked gravel, dirt machine-built trails with bold switchback turns and bermed corners linking to the main trailhead located at the Pavilion parking lot.
The expert trail, Paint it Black, starts off on intermediate Black & Blue and veers off on its own as it winds its way through the woods with short punchy climbs, a few sharp turns, and a narrow bridge. The trail traverses the open fields of Mt. Sabattis before tucking back into the woods again. The climb gets more technical with another bridge and switchback turns, finally topping out at the Mt Sabattis Overlook.  From the top of Sabattis the trail becomes a one-directional down trail with a built jump-line featuring a rock drop, a step-up tabletop, another step-up jump, as well as a few "kicker" style jumps. This jump line is a one of a kind for the Central Adirondack region and is sure to draw novices and experts alike from surrounding areas to test their skills. The rock drop is a feature riders will be talking about long after they finish their ride.
Phase 2 of this build was completed by Steve Ovitt and his team at Wilderness Property Management, who have incorporated the natural topography of Mt. Sabattis blending natural land features with built single-track riding creating stacked rides, views and fun challenges along the way.
These trails are open to bikers, hikers, dog walkers and any other non-motorized users, and can be found on the Trailforks app under the Mt. Sabattis Recreation Area at 6 Pavilion Way, Long Lake, NY. Free parking is available at the Geiger Arena/Tennis Courts or up at the Pavilion.
###