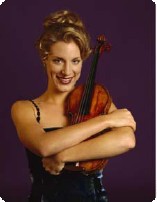 Lake Luzerne, N.Y.
- Luzerne Music Center will present "Violinist Elizabeth Pitcairn and Friends" at Merkin Concert Hall, Kaufman Center, on Saturday, January 16
th
, 2010, at 7 p.m.   Elizabeth Pitcairn, protégé of Robert Lipsett, will perform in partnership with her Red Mendelssohn Stradivarius violin and colleagues Toby Blumenthal, pianist, President and CEO of Luzerne Music Center, cellist Jacob Braun, and Cynthia Elise Tobey, piano.  The event will begin with a
silent auction and champagne
at 7 p.m. followed by the
concert
at
8 p.m.
and will conclude with a reception.  The Concert will also feature student and alumni performances.  The program will include: Sergei Prokofiev:
Sonata No. 2 for Violin and Piano in D Major, Op. 94a
(1943); Robert Schumann:
Adagio and Allegro in A Flat Major, Op. 70
(1849); Johannes Brahms: Piano Trio
No. 2 in C Major, Op. 87
(1880-82) Frédéric Chopin:
Ballade No. 3 in A Flat major, Op. 47
(1840-41); Maurice Ravel:
Tzigane
(1924); Ástor Piazolla: Estaciones Porteñas (Four Seasons of Buenos Aires). Founded in 1980 by the Late Bert Phillips (Philadelphia Orchestra cellist, 1959 - 1990 and cellist emeritus, 1990 - 2008) and his wife Toby Blumenthal, the Luzerne Music Center is a not-for-profit international summer music camp and performing arts center in the Adirondacks where Philadelphia Orchestra members perform and teach.  This special concert will mark the beginning of Luzerne's 30
th
Anniversary celebration; all proceeds will benefit Luzerne's 2010 students, ages 10 - 18 through the Luzerne Music Center Scholarship Fund.   The Luzerne Music Center Alumni Association and Committee of 100 are serving as co-sponsors of this event.  Luzerne now has over 3,000 alumni world wide. Tickets are available directly through the Merkin Concert Hall Box Office at (212) 501-3330. 
Premium Patron Seating:
$125
(includes free gift);
General Admission:
$50
;
Students:
$20
(Discounted tickets can be purchased at the box office or by phone). Round-trip, same-day charter bus service is available to the event from Adirondack Community College and Saratoga Springs, NY at a price of $37 per person. For further information, contact Luzerne Music Center at (518) 696 -2771 & (518) 623-3605 or email
LMCBenefitNYC@gmail.com
and Merkin Concert Hall at (212) 501-3330 &
http://www.merkinconcerthall.org/
. Luzerne Music Center is located at  203 Lake Tour Road, Lake Luzerne.
###
Contact: Janet Curry, Director, Media Relations (518) 623-3605 jcurryluzernemusic@yahoo.com