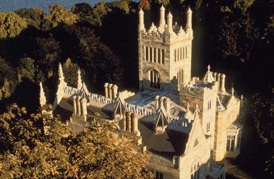 Tarrytown, N.Y.
-   Lyndhurst, widely considered to be the finest example of Gothic Revival architecture in America, which overlooks the Hudson River just south of the Tappan Zee Bridge, is now open for the 2012 season.  Decorated with remarkably complete furnishings from the three prominent families who in succession resided there for over 100 years, Lyndhurst evokes critical and fascinating eras in American History. Originally a simple country villa for a former brigadier general and mayor of New York City, Lyndhurst was expanded to suit new merchant-andultimately robber baron--wealth. But in the twentieth century, two sisters respectively used their home as a base for philanthropic works, both on a national and local scale, and to offer respite to soldiers on leave during World War II. Lyndhurst Mansion's tour schedule for 2012 runs Fridays through Sundays, with tours at regular intervals between 10-5 pm. The last tour leaves at 4 pm each day.   Group and School Tours may be scheduled during the week.  The site's rolling 67-acre property-- including the soon-to-be-blooming rose garden-- is open to the public from dawn to dusk daily.  Tours of the mansion are $12 for adults and $6 for children. New this year, tour tickets are sold in the Museum's gift shop, located in the Carriage House complex which is just beyond the mansion as one follows the path down the hill.  Parking is now at the upper south end of the property, as indicated by banner signage.   The new parking arrangement frees the landscape of cars and also enables guests to walk more easily on the grounds. The gift shop features an array of new products this season, including new book selections and a gardening section.  The shop will be open from 9:30 am until 5:00 pm Friday through Sunday and is open to the public without museum admission. Well-loved events are returning, including Rose Day, on June 3 from noon to 3:30.   Two very special events celebrating the original Dark Shadows movies-which were filmed at Lyndhurst--will be held July 27 and 28.  Sunset Jazz concerts are scheduled for August 2, 9, 16 and 23.  More events, including the Jeffrey A. Weiss Memorial Chamber Music Concert, Halloween and December Holiday celebrations, are in planning and will be announced shortly.   Lyndhurst grounds and mansion are available for weddings, corporate and other event rentals.  Please visit
http://www.lyndhurst.org/
for updates on events, information on rentals, and to learn more about Lyndhurst. 
# # #