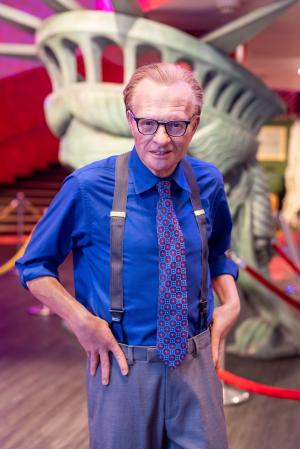 Wax Museum Invites Guests to Pay Respects to New York City Icon Free of Charge  
New York City (Jan. 25, 2021) – Madame Tussauds New York is honoring famed talk show host, Larry King, by placing his figure front and center inside the entrance of the Times Square museum following his passing on Saturday. Guests are invited to pay their respects to the New York City icon by signing a condolence book and pausing for a moment in his honor. There's no charge to visit his figure. It's a tradition for Madame Tussauds museums to pay tribute to celebrities and those who've made a significant impact on society by featuring their figures in this manner.
King's figure was unveiled in 2000 at Madame Tussauds New York. Madame Tussauds creative team worked closely with King and took more than 250 precise measurements to create his figure. More than a decade later, in 2011, King posed for a photo with his wax figure during the Hollywood Arts Council's 25th Annual Charlie Awards Luncheon at The Roosevelt Hotel in Hollywood, California.
###
About Madame Tussauds New York
Voted as one of New York's most unique attractions, Madame Tussauds invites you to pose "In a moment in time" with our famous fun figures of internationally renowned musicians, A-list stars, sports legends, world leaders and more. With more than 85,000 square feet of interactive entertainment and several new spaces, including the new Madame Tussauds New York Presents Broadway, and NYE in NYC, the world-famous attraction is bigger and better than ever!
About Merlin Entertainments plc
Merlin Entertainments plc is a global leader in location-based, family entertainment. As Europe's number one and the world's second-largest visitor attraction operator, Merlin now operates more than 130 attractions, 19 hotels and 6 holiday villages in 25 countries across four continents. Merlin's purpose is to deliver memorable experiences to its 67 million guests around the world, through its iconic brands and multiple attraction formats, and the commitment and passion of its 28,000 employees (peak season). See www.merlinentertainments.biz for more information and follow on Twitter @MerlinEntsNews