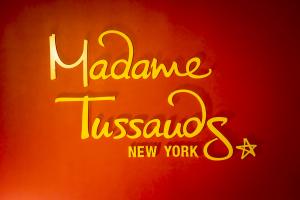 Immersive Fantasy Adventure Features Frightful Pop Culture Icons  
New York City (Sept. 23, 2020) – Where can you find a creepy haunted mansion, ghoulish ghosts, soaring superheroes and a towering mystical monster under one roof? Madame Tussauds New York is the perfect family-friendly Halloween destination.  Guests of all ages are encouraged to come in costume now through October 31 and embark on an A-list fantasy adventure featuring world-famous pop culture experiences. 
WHO YOU GONNA CALL?
The Ghostbusters Experience brings the film as guests explore the eerie underground tracks of the NYC subway to the basement of a haunted mansion before arriving at Ghostbusters Headquarters where spooky surprises wait around every corner.
JOIN THE MARVEL SUPERHEROES
Meet, greet and fly with some of the most popular superheroes such as The Hulk, The Hulkbuster, Captain America, Thor, Nick Fury, Iron Man and of course Spider-man inside the Marvel Experience. VIPS will be challenged to save the day with Captain America, Smash with The Hulk, use your Spidey Senses with Spider-Man and so much more.
FACE OFF WITH KING KONG
Awaken Kong! Feel the roar of the largest animatronic in New York City and unearth the secrets of Skull Island. In partnership with Legendary Pictures and Warner Brothers Pictures, Madame Tussauds New York brings the experience to life with an eighteen-foot, multi-sensory animatronic head of the gigantic ape that is sure to wow and terrify in the larger than life Kong: Skull Island experience.
STAR-STUDDED SAFETY
In line with government advice and the requirements of local health authorities Madame Tussauds New York has introduced timed and dated tickets, social distancing guidelines, contactless payment, enhanced cleaning and employee health screenings. Additionally, interactive experiences, photo props and the 4D theater are temporarily unavailable. Face coverings must be worn by all guests and capacity will be restricted to no more than 25 percent of permitted occupancy. Costume masks are only permitted for guests younger than 14 years old.
Madame Tussauds New York is celebrating the season with a special-priced $19.99 ticket specifically for "locals." Guests are encouraged to visit https://www.madametussauds.com/new-york/en/tickets/?promocode=LOCAL to purchase tickets and review safety protocols ahead of their visit.  Local ticket eligibility is limited to residents of New Jersey, New York's five boroughs, Connecticut's Fairfield and New Haven counties.
###
About Madame Tussauds New York
Voted as one of New York's most unique attractions, Madame Tussauds invites you to pose "In a moment in time" with our famous fun figures of internationally renowned musicians, A-list stars, sports legends, world leaders and more. With more than 85,000 square feet of interactive entertainment and several new spaces, including the new Madame Tussauds New York Presents Broadway, and NYE in NYC, the world-famous attraction is bigger and better than ever!
About Merlin Entertainments plc
Merlin Entertainments plc is a global leader in location-based, family entertainment. As Europe's number one and the world's second-largest visitor attraction operator, Merlin now operates more than 130 attractions, 19 hotels and 6 holiday villages in 25 countries across four continents. Merlin's purpose is to deliver memorable experiences to its 67 million guests around the world, through its iconic brands and multiple attraction formats, and the commitment and passion of its 28,000 employees (peak season). See www.merlinentertainments.biz for more information and follow on Twitter @MerlinEntsNews
Media Contact: 
Brittany Williams, Senior PR Manager
Brittany.Williams@MerlinEntertainments.biz
863-594-0128 
Photos & B-Roll:  http://bit.ly/MadameTussaudsHalloween