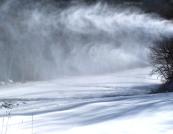 Snowmaking Begins at Whiteface
Wilmington, N.Y. ---
With the start of the 2012-'13 skiing and riding season slated to begin, Friday, Nov. 23, at Whiteface Mountain, in Wilmington, N.Y., snowmaking began last night.  Guns blew snow on the mountain's Lower Valley and Fox trails.  Snowmaking will resume tonight and will continue leading up to opening day, conditions permitting. Through, Friday, Nov. 16, the Whiteface/Gore adult non-holiday pass is available for just $699, while the adult full-season pass is just $869.  The young adult and college season pass can be purchased for $385 and the junior pass is only $299. 
Photo
: 11_05 Whiteface Blows Snow 1 - Guns blow snow onto Whiteface Mountain's Lower Valley Trail Photos courtesy of Whiteface Mountain
-- ORDA --
Established in 1982, the New York State Olympic Regional Development Authority (ORDA) was created by the State of New York to manage the facilities used during the 1980 Olympic Winter Games at Lake Placid. ORDA operates Whiteface, Belleayre and Gore Mountain ski areas; the Olympic Sports Complex at Mt. Van Hoevenberg; the Olympic speedskating oval, Olympic jumping complex and Olympic arena. As host to international and national championships, the Authority has brought millions of athletes, spectator and participants to the region, resulting in significant economic development. 
Contact:
Jon Lundin, ORDA public relations coordinator
jlundin@orda.org
(518) 523-1655 ext. 5313