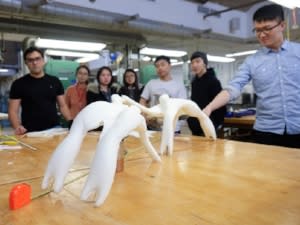 Garrison, N.Y. – Manitoga is pleased to announce that Master of Architecture students at the University of Pennsylvania School of Design will design and build a full-scale, site-specific pavilion at Manitoga as the main feature of the 2017 Artist Residency Program.
The Artist Residency program was initiated in 2014 to foster creative responses to Manitoga that invoke Russel Wright's legacy of creative experimentation and celebration of place. Through form, structure, material and process, the pavilion will respond to Manitoga's rich history and extraordinary setting. The pavilion will be on view during seasonal public tours and special programs. A Members Opening Celebration will be held Saturday, June 10, 5-7pm.
"Our 2017 Artist Residency Program brings together a new generation of visionary designers with a mid-century design icon," says Executive Director Allison Cross. "In his experimental home and landscape, Wright celebrated material innovation, good design, and harmony with nature. The striking creativity shown by the student work is an inspiring tribute to this legacy."
The residency culminates a two-year collaboration between Manitoga and PennDesign's Architecture Department. Over 150 students visited Manitoga and participated in various studio projects inspired by Wright's design principles. A juried pavilion competition of student group concepts was a program highlight with the 2015 winning design Over Cast named one of the world's top student design-build projects by ArchDaily.com. http://www.archdaily.com/794566/the-best-student-design-build-projects-worldwide-2016. The winning design concepts from 2016 - Hereafter and Devour(ing) the Dark - are currently being developed and fabricated as one pavilion for Manitoga in the seminar led by Lecturer Mohamad Al Khayer. Department Chair Winka Dubbeldam enthusiastically notes that "the pavilion installation at Manitoga is a unique design build experience. Students have the opportunity to take what they are learning at PennDesign and move it beyond our walls to engage a rich cultural context with an immediate impact."
The pavilion competition was conceived and coordinated by Associate Professor Andrew Saunders, who explains, "The design of a contemporary pavilion for the site offers a unique opportunity to extend the legacy of Wright and of Manitoga. The pavilion is meant to be a built dialogue that speculates on the trajectory of mid-century modern design of mass standardization in the context of today's digital technologies."
Also at Manitoga in 2017 will be a site-specific fall performance by resident sound artist Suzanne  Thorpe, funded in part by NewMusic USA and the MAP Fund, and an extended run of artist Peter
Bynum's installation Ecstatic Light in the House and Studio.
About Manitoga:
Located in Garrison, New York, approximately one hour north of New York City, Manitoga is the House, Studio and 75-acre woodland garden of American industrial designer Russel Wright (1904-1976). Manitoga is a National Historic Landmark, an Affiliate Site of the National Trust for Historic Preservation, and one of the few 20th century modern homes and landscapes open to the public in New York State. Manitoga / The Russel Wright Design Center preserves and shares Manitoga as a masterful integration of design and nature, a powerful example of land reclamation, and a resource for inspired design in daily living through public tours, programs and events. Previous Artist Residency Program participants include artists Melissa McGill, Stephen Talasnik, Peter Bynum and Marek & Kristyna Milde and composers Ben Neill and Todd Reynolds. Sound artist Suzanne Thorpe will produce the Annual Performance for 2017.
About PennDesign:
PennDesign prepares students to address complex sociocultural and environmental issues through thoughtful inquiry, creative expression, and innovation. As a diverse community of scholars and practitioners, PennDesign is committed to advancing the public good–both locally and globally–through art, design, planning, and preservation.
Participating PennDesign Students & Faculty: 2015-2017
2017 Arch 730-001 Techniques, Morphology and Detailing of a Pavilion
Enrolled students: Sookwan Ahn, Zakariya Yaseen Al-Haffar, Mohamed Ali, Musab Mohammad Badahdah, Xiaonan Chen, Justine Huang, Bosung Jeon, Hewen Jiang, Yunhwan Jung, Katherine Anne Lanski, Dongliang Li, Siyang Lv, Jia Lyu, Xiaoyu Ma, Ayotunde Oreoluwa Ogunmoyero, Taeseo Park, Daniel Silverman, Grace Soejanto, Ali Tabatabaie Ghomi, Lingxiao Teng,  Ailin Wang, Yijia Wang, Ge Yang, Yunlong Zhang, Yuchen Zhao, Jianbo Zhong, Xieyang Zhou (Instructor: Mohamad Al Khayer).
2016 Arch 501 Design Studio I: Pavilion Competition
Winning Projects (2): Devour[ing] the Dark by Katherine Lanski, Justine Huang, Ayotunde Ogunmoyero, Lingxiao Teng, and Xieyang Zhou (Instructor: Michael Loverich); and Hereafter by Grace Soejanto, Mohamed Ali, Daniel Silverman, Ailin Wang (Instructor: Michael Loverich).
Honorable Mentions (3): Laurentia (Best Presentation) by Dyan Castro, Yanking Huang, Dili Zha, and Yi Zhu (Instructor: Miroslava Brooks); Seem/less (Best Craft) by Elizabeth Heldridge, Logan Weaver, Nikolaos Kalantzopoulos, Yitian Zheng, and Xiaoyu Duan (Instructor: Miroslava Brooks); and Zoetic Roost (Best Technical Innovation) by Ariel Cooke-Zamora, Jordan Hillier, Gwan Sook Kim, Tae Hyung Lee (Instructor: Andrew Saunders).
2015 Arch 501 Design Studio I: Pavilion Competition
Winning Project: Over Cast by Margaret Gregg, Ruoning Deng, Siyi Li and  Yuntao Xu (Instructor: Andrew Saunders) Honorable Mentions (5): Guide to Easier Loving (Best Titled) by JooYoung Ham, Kat Engleman, Farre Nixon, Nikita Jathan (Instructor: Abigail Coover Hume); Hellebore (Best Process) by Madelyn Moretta, Noah Medlinsky, Marianne Sanche, CW Wesley Chiang (Instructor: Lasha Brown);  Whipped Cavern (Innovative Use of Material) by Have-yun Kwon, Alex Bahr, Yiqun Chen, Yuwei Sun (Instructor: Abigail Coover Hume); Tetraheji (Best Craft) by Andre Stiles, Constance Chang, Yoon Ji, Julie Pepitone, Tian Ouang (Instructor: Andrew Saunders); Marshmapod (Visionary) by Alyssa Appel, Kaj Marshall, Margarida Mota, Xiaoling Wang, Huanan Ye (Instructor: Michael Loverich)
Winka Dubbeldam, Chair and Professor, Department of Architecture
Frederick Steiner, Dean and Paley Professor, PennDesign
Contact: Dan Rigney, Outreach / Visitor Services Coordinator
845-424-3812; drigney@visitmanitoga.org