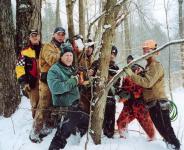 In Cattaraugus County in the Enchanted Mountains of WNY
Little Valley, N.Y.
- Is winter dragging you down?  Are you ready to feel the warmth of the early spring sun on your face, see the buds of the trees as they inch their way out of their winter's nap, smell the aroma of boiling sap as it cooks down and taste the freshly produced mouth watering maple syrup on a drenched stack of fluffy pancakes at one of our maple producers pancake houses.  It's time for Maple in the Mountains and Maple Weekend!  The best maple syrup is produced here in the Enchanted Mountains of Cattaraugus County in Western New York. Shake off those winter blahs!  March and April are the months to get outside to start exploring and experiencing the rebirth of nature as we strip off our heavy winter coats, shed our boots, hats and mittens and prepare for warmer weather and a new season of outdoor activities. With the correct weather conditions of warm days and cold nights, the maple sap will start running in late February so it is time to start planning your journey to the Enchanted Mountains for a spring visit to maple producers across the county.  Bring the family and join in the maple experience during the Maple Weekends, which will be held March 20 - 21 and March 27 - 28 from 10:00 a.m. to 4:00 p.m. each day on site at local maple producers.  Each participating producer opens their establishment to visitors to help them see firsthand the maple process.  This educational event is a great time for the entire family to experience how sap is gathered, sent to an evaporator and boiled down to the sweet flavoring used so many ways. Participating in this year's Maple in the Mountains Campaign are: Sprague's Maple Farms, Route 305, Portville; Greater Olean Area Chamber of Commerce, and Olean Accommodations: Hampton Inn, Best Western University Inn and Country Inn & Suites; also, Baldwin Hill Farms, Rushford. At Sprague's Maple Farms, you can travel to the Sugar House in the wagon; step inside to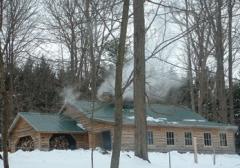 watch the old-fashioned method of boiling the sap down into tasty amber colored syrup.  Sample some "Jack Wax" which is freshly boiled syrup poured on new fallen snow (or shaved iced), yummy!  Then hike along the trails to view the replica of an Indian Village with demonstrations of how maple syrup was first made.  A trip back down the hill to the restaurant and gift shop is next on your agenda where you will enjoy generous portions of down home country cooking.  Down the hallway, you can view the modern method of sugaring using a reverse osmosis machine in conjunction with energy efficient 4' X 14' Lightning Evaporator.  Sprague's Maple Farms is open year 'round, daily from 8 a.m. to 8 p.m.; Friday and Saturday until 9 p.m.  Baldwin Hill Farms, 8508 Baldwin Hill Road, Rushford, NY 14777 has a sugarhouse that produces maple syrup in late winter.  Their NYS kitchen then bottles and packages over 20 original gourmet products made from their maple syrup. Visit their open house the last two weekends in March for a tour!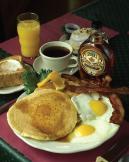 Bring your family to the Western New York's Maple Festival in Franklinville on April 24 & 25.  Attending the Maple Festival, which has been held annually since 1962, has become a family tradition to start the good weather festivities.  It is held each year on the last weekend of April and is hosted on the grounds of Franklinville Central School. You'll find Maple Products Sales & "Sugaring" Demonstrations, business/services exhibits at the Elementary School along with a craft show and sale. Be sure to visit the Sugar Shanty with evaporator & museum artifacts in front of the school.  Don't forget to be there on Saturday morning to catch the parade!  Grab a bite to eat at the all-you-can-eat Pancake Breakfast or enjoy a Ham & Leek Dinner at the fire hall!
###
Contact: Debra L. Opferbeck Tourism Specialist Cattaraugus County Economic Development, Planning & Tourism  (716) 938-2242