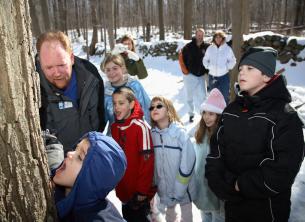 Cornwall, N.Y.
- On Saturday, March 5 from 10:30 a.m. to 3 p.m., the Hudson Highlands Nature Museum will be hosting a Maple Sugar Festival to celebrate the opening day of Maple Sugaring season. The Festival and Maple Sugar Tours take place at the Outdoor Discovery Center, on Muser Drive, across from 174 Angola Road, Cornwall.  At the Festival, visitors will join Museum Educators for crafts, games, tree tapping contests and Native American story telling at the outdoor camp fire.   They can sample Journey Cakes and Jack Wax too! Maple Sugar Tours through the sugar bush run every half-hour beginning at 10:30 a.m.  Tour size is limited so visitors are urged to sign up for their tours as soon as they arrive. Food and maple products will be available for purchase. On the tours, visitors will learn that what began as an exchange of ideas and practices between early explorers and Native Americans has become one of New Yorker's best loved treats and an important industry in the state. Visitors will learn the history, how to tap a maple tree, how to collect the sap, and how the sap boils down in an evaporator to become maple syrup. The walking tour experience lasts approximately 45-minutes and ends at the Museum's farmhouse for the syrup taste challenge, where maple syrup and gifts can be purchased. Visitors are asked to be sure to dress warmly and wear boots for snow and mud. This is a wonderful family outdoor activity. The Festival on March 5 takes place at the same time as the tours are running with no additional charge. Admission for Tours: $10/Adults, $5/Children ages 3-11. Members: $6/Adults, $3/Children ages 3-11. For more information, call 845-534-5506, ext. 204 or visit
http://www.hhnaturemuseum.org/
The award winning Maple Sugar Tours  will run every  Saturday and Sunday from March 5 - March 27 Dates are: March 5, 6, 12, 13, 19, 20 26, 27. Tours start every half-hour and run from 10:30 a.m. until 3 p.m.                                                                                     ###
Photo Caption:
Experience a Maple Sugar Tour at the Hudson Highlands Nature Museum. The festival takes place on Saturday, March 5
th
from 10:30 a.m. -3 p.m. at the Outdoor Discovery Center. Tours run every weekend through March 27 from 10:30 a.m. - 3 p.m. Photo by George Potanovic, Jr.
Contact
: Marian Goldin, Marketing Manager Hudson Highlands Nature Museum 845-534-5506, ext. 215