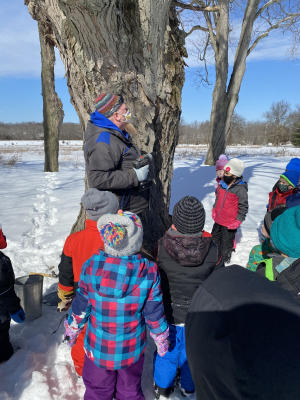 Maple Sugar Tours at HHNM begin this weekend
Cornwall, NY -  Maple Sugaring Season is once again upon us in the Hudson Valley and the Hudson Highlands Nature Museum is ready with their Maple Sugar Tours! Learn how to identify and tap sugar maple trees, discover sugaring techniques used by Native Americans, pioneers, and modern-day farmers, and see an evaporator in action.
Maple Sugar Tours will take place at the Nature Museum's Outdoor Discovery Center location, 120 Muser Drive, off of Angola Road in Cornwall. They'll  kick off on Saturday Sunday, February 21 and 22 and will continue on February 27 and 28; March 6, 7, 13 and 14 where two types of tours are offered hourly from 11am-3pm. Sugar Bush Tours: 11am, 1pm & 2pm; are a one mile moderate hike through field and forest to the original Sugar Shack (terrain and weather conditions dependent). Maple Lane Tours: 12pm & 3pm; perfect for little legs, a short walk from the farmhouse to the Grant Sugar Shack after a tour of the sugar maple stand. NEW for 2021,
Maple Syrup from Justus Asthalter Maple Syrup, Inc. in Parksville, NY, will be sold exclusively online to be picked up at your tour.  For all tours, masks and social distancing are required at all times. Please wear appropriate footwear for snowy/muddy/cold conditions and dress warmly!  There will be a  20 person capacity per tour including children 5 and under. Pre- registration is required and walk-ins will not be permitted. Register online at hhnm.org or by phone at 845-534-5506. Admission: Museum Members: $8 per person ages 6 and up. Not-yet-Members: $10 per person ages 6 and up. All children ages 5 and under are free but require their own ticket. Visit hhnm.org for more information. 
###
Photo Caption: The Hudson Highlands Nature Museum is offering  its popular Maple Sugar Tours on February 21 and 22 and will continue on 27, and 28; March 6, 7, 13 and 14. Visit hhnm.org for details.  Photo by HHNM 
For additional information contact:
Joanna Marvel, Marketing Manager
Hudson Highlands Nature Museum