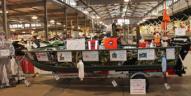 Queensbury, N.Y.
- New York's 2013 Discover Clean & Safe Boats -- equipped by New York Sea Grant with all the gear required and recommended for legal, safe, and environmentally-friendly boating in New York waters -- will be at the 8th Annual Great Upstate Boat Show March 22-24 at the Adirondack Sports Complex in Queensbury, NY.   New with the 2013 exhibit is a sewage pump out system pedestal-and-hose array provided by Edson Pumps Marine Division, New Bedford, MA. The equipment is included in the educational display to help boaters prepare to meet the expected No Discharge Zone regulations.   The U.S. Environmental Protection Agency defines a No Discharge Zone as an area in which both treated and untreated sewage discharges from vessels are prohibited. "New York's Great Lakes will soon be designated No Discharge Zones, so we equipped the 2013 Discover Clean & Safe Boating exhibit with a pumpout array to educate boaters about the coming new environmental requirement for boating on Lake Erie and Lake Ontario," says Discover Clean & Safe Boating campaign creator Dave White, coastal recreation and tourism specialist with New York Sea Grant, Oswego, NY. For 2013 the Discover Clean & Safe Boats educational vessels are a 16-foot fishing boat and a 12.9-foot canoe made in New York by Marathon Boat Group, Marathon, NY. The Discover Clean & Safe Boats exhibit includes information on voluntary watercraft inspection, invasive species factsheets, and educational materials for anglers and paddlesports enthusiasts about how to be safe on the water and how they can help reduce the spread of aquatic invasive species. "The New York Discover Clean and Safe Boats visit the Great Upstate Boat Show with the latest information that boaters need to know. The exhibit this year includes valuable information on the new No Discharge regulations, how-to tips for boaters to properly inspect their watercraft to slow the spread of invasive species, and always good-to-know safety information that fits so well with the series of New York Safe Boating courses sponsored by the Eastern New York Marine Trades Association. (ENYMTA)," says Great Upstate Boat Show Manager Roger Phinney, executive director of the ENYMTA. The Discover Clean & Safe Boating campaign that has earned honors from the BoatUS Foundation is a collaboration by New York Sea Grant with marine trade associations in central, eastern and western New York state, Marathon Boat Group, Arney's Marina, and the national Stop Aquatic Hitchhikers program. Morgan Recreational Supply and Taylor Made Products supplied the boating gear for the traveling educational exhibit.   The Great Upstate Boat Show hours are 11am-8pm on Friday, March 22, 9am to 7 pm on Saturday, March 23, and 10am-5pm on Sunday, March 24; admission is $8 ($6 with online coupon at
http://www.greatupstateboatshow.com/
), children under 12 are free with an adult, Friday is 2-for-1 day. The Adirondack Sports Complex is located at 326 Sherman Avenue in Queensbury.   For more information on the Discover Clean & Safe Boating campaign, contact White at New York Sea Grant, Oswego, NY, 315-312-3042,
http://www.nyseagrant.org/
,
http://facebook.com/nyseagrant
, and
http://twitter.com/nyseagrant
.
###
Contact
: Dave White, NY Sea Grant, 315-321-3042 Roger Phinney, Eastern NY Marine Trades Association, 518-791-0070 Photo available from publicist Kara Lynn Dunn, 315-465-7578,
karalynn@gisco.net