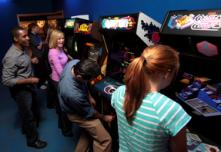 Two-for-One Admission with College ID Entire Month
Rochester, N.Y.
- You're never too old for this much fun! The National Museum of Play® at The Strong® invites college students to come downtown for some serious fun during the month of March with a special March College Month two-for-one discount offer.  Buddy up with a fellow student and share hours of fun together at half the price when you each present your current college IDs at the museum admissions desk. The two-for-one general admission price is available to college students only, from March 1 through 31, 2011. (Regular general admission price is $12.) With 150,000 square feet of exhibit space, there's no lack of things to see and do. Play your way through the history of video games at eGameRevolution, a new, original, hands-on exhibit. Experience this amazing revolution for yourself-from pioneer Ralph Baer's first Brown Box games to today's high tech Xbox 360 games. Enter a recreated, old-fashioned video arcade featuring more than two dozen operating historic games, or visit one of several emulator stations around the  gallery and challenge yourself to more than 40 classic and contemporary PC and console games. You can also play Guitar Hero and Boom Blox on Wii and step lively on an LED Lightspace floor.   Experience the region's largest indoor coral reef aquarium and visit the National Toy Hall of Fame®. Climb up the side of a skyscraper or fly high above the city like a superhero in the American Comic Book Heroes: The Battle of Good vs. Evil exhibit. Walk through a giant kaleidoscope in the Field of Play exhibit. Challenge yourself to new Kinect games, and much more. Discover the museum's Dancing Wings Butterfly Garden ($4 additional admission charge per person) where you can walk among 800 free-flying butterflies in a lush, tropical environment. In addition to butterflies, the garden is home to a variety of wildlife, including hummingbirds, a toucan, goldfish, turtles, and tortoises. For directions and more information about the National Museum of Play, visit www.museumofplay.org or call 585-263-2700.
###
Museum Hours: Monday-Thursday, 10 a.m. to 5 p.m.; Friday and Saturday, 10 a.m. to 8 p.m.; Sunday, noon to 5 p.m. Admission Fees: General Admission (does not include admission to Dancing Wings Butterfly Garden®): Adults $12; Seniors $11; Children (2-15) $10; Children younger than two free; museum members free.  Admission to Dancing Wings Butterfly Garden®: General Admission fee plus $2 for members, $4 for nonmembers; Children under 2 free. Entry is by timed ticket only. Please call 585-263-2700 to reserve and purchase tickets. Parking:  Free parking is available at the museum for all guests on a first-come, first-served basis. Please note that, on high visitation days, the museum lot may reach capacity early in the day. If space is not available on site at the time of your visit, additional parking is available at neighboring municipal garages for a fee. The Strong is not responsible for fees incurred at off-site locations.
Contact
: Susan Trien 585-410-6359
strien@thestrong.org
Shane Rhinewald 585-410-6365
srhinewald@thestrong.org