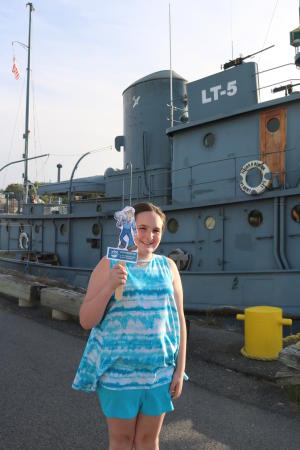 Oswego, NY. – Did you know there is an island dedicated to a spy in Mexico, New York or that there is a World War II tug that shot down a Nazi plane now docked in Oswego's inner harbor? The new Sailor Sam Canal to Shore Challenge program from the H. Lee White Maritime Museum in Oswego will help you answer all of these questions and many more. This program, sponsored in part by the Erie Canalway National Heritage Corridor and the NYS Canal Corporation seeks to take participants of all ages, in groups or as individuals, on a quest to see and learn more about the hidden history along our local waterways.
The Museum's Sailor Sam mascot identifies 23 historic points of interest along the Oswego Canal, Oswego Harbor and Lake Ontario in a Logbook available through the Museum. Individuals, family groups, youth groups, school groups and others can purchase this special Logbook and then visit all 23 sites, learning more about the fascinating and unique stories that unfold at each site.
"The Challenge is a great way for people to get outside, travel locally, and learn more about the great history along the Oswego Canal and the southeastern shore of Lake Ontario," says Museum Executive Director Mercedes Niess. "Our staff has put together a fun roadmap through our history suitable for everyone. It is especially relevant now for parents, educators and youth leaders in search of creative educational experiences."
Niess says the Canal to Shore Challenge gets people outside to take a deeper dive into history while also gaining an appreciation for the beautiful natural environment of upstate New York. "Fall and even the winter are the perfect time to take this activity on," says Niess. "Not only is it the normal start to the school year, but it can be some of the most beautiful times of the year in upstate New York."
Participants take selfies with Flat Sailor Sam using each point of interest as a back drop. These selfies are then sent to the Museum and will be featured on the Canal to Shore Facebook page (@CanalToShore). When completed and visits have been documented to all 23 sites, they will receive an exclusive Canal to Shore Challenge 3" patch and an official numbered certificate of completion showing their place in finishing the program among the other participants. Details for exact steps to start and complete the Challenge are available on the Maritime Museum website.
Niess notes that the Sailor Sam Canal to Shore Challenge can also be used as part of the current Erie Canalway Challenge. Participants are encouraged to log their mileage as they walk, bike, or
paddle along the Canal, and then submit their information to the Canalway Challenge initiative as well.
This program is sponsored in part by the Erie Canalway National Heritage Corridor and the New York State Canal Corporation.
Challenge kits are $15.95 and can be purchased online or at the Museum. For more information and to obtain a copy of Sailor Sam's Canal to Shore Challenge Logbook, contact the Museum at 315.342.0480 or visit www.hlwmm.org.
###
Photo caption: Dawn Ellis, 11 years old, of Oswego New York is pictured here with Flat Sailor Sam in front of the National Historic Landmark Tugboat LT-5 in Oswego's Historic Maritime District.