Elmira, N.Y.
- The year 2010 will mark the 175th anniversary of Twain's birth, the Centennial of his death, and the 125
th
anniversary of the release of Adventures of Huckleberry Finn.  Elmira, New York, also known as Mark Twain Country, will be celebrating his life with a year of Twain themed events and special promotions. The following events will take place from April 21, the death date, through April 24, the day he was laid to rest at Elmira's Woodlawn Cemetery:
Wednesday, April 21, (Death Centennial) Hal Holbrook to perform his Emmy & Tony award-winning performance of Mark Twain Tonight at Clemens Center for the Performing Arts.
Saturday, April 24, Re-enactment of Twain's gravesite service and burial at Woodlawn Cemetery. The event will use details provided by articles from the New York Post and New York Times along with other historical sources, and will include a horse drawn carriage transporting the casket.
Wednesday, April 21 - Saturday, April 24, Trolley into Twain Country Tours Centennial Excursions, One hour guided tours that will include a stop to go inside the Mark Twain Study (where Twain penned such classics as Adventures of Tom Sawyer and Adventures of Huckleberry Finn while summering in Elmira with his in-laws for 22 years) and the Clemens family burial site at Woodlawn Cemetery.
Wednesday, April 21 - Friday, April 23, Dine like Twain dinners to be offered at Hill Top Restaurant. Feast on Twain's favorite foods while overlooking the exact same view of the Chemung River Valley that inspired him while writing his classics.
April 22 & 24, Twain Notes, A theatrical reading of the personal correspondence of Samuel Clemens and those closest to him.  Held at The Park Church, of which Twain was a member.
Saturday April 24, Tom Sawyer & Becky Thatcher Day at Harris Hill, Harris Hill, the Soaring Capital of America, welcomes Twain enthusiasts to take a glider ride over Mark Twain Country and view the Twain Exhibit at the National Soaring Museum, or join in a Tom Sawyer & Becky Thatcher in a game of putt-putt at Harris Hill Amusement Park.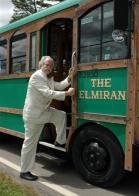 Other events during in Mark Twain Country during 2010 include scenic glider, vintage plane and helicopter rides over the spectacular views that inspired the author; the dedication of a Twain hiking trail overlooking the Chemung River and complete with Twain quotes; Trolley into Twain Country Tours throughout July and August, the release of a commemorative Twain-labeled Riesling from award-winning Glenora Wine Cellars, and much, much more.  Visitors are also encouraged to pay their respects to this American Classic at Woodlawn Cemetery, enjoy a tour of the Mark Twain Study, or visit the permanent display a the Chemung Valley History Museum.  A complete calendar of events can be found at
http://www.marktwaincountry.com/Twain2010.asp
. Samuel Clemens--more notably known as
Mark Twain
--called many places home. While he grew up in Hannibal, Missouri, and lived in Hartford, Connecticut and Buffalo, New York, it was in Elmira, New York that America's favorite son traveled when he sought refuge to live out his private life and write. Twain married Elmiran Olivia Langdon, in a simple ceremony at the mansion of his in-laws and remained tethered to the city and his in-laws for the balance of his life. Twain was particularly close to his father-in-law, Jervis Langdon, a wealthy businessman who was actively outspoken against slavery and aggressively active in the Underground Railroad, and Jervis' views on abolition greatly influenced Mark Twain's writing. Twain returned to Elmira to summer for 22 years at the home of his sister-in-law, perched in the hills overlooking the Chemung River Valley. He drew much inspiration from the spectacular views and referred to Elmira as a "foretaste of Heaven." He sequestered himself in a tiny Study his in-laws had made for him to write his classics, such as
Adventures of Huckleberry Finn
and
Adventures of Tom Sawyer,
among many others. The Mark Twain Study, a gazebo-type structure that was built to resemble the top of a Mississippi steamboat, has since been moved to the campus of Elmira College where it is open to the public, and was noted by USA Today as the '#1 Literary Attraction in America'. Although Twain traveled globally and laid claim to being a citizen of the world, it was in Elmira that he chose to be laid to rest at Woodlawn Cemetery alongside his wife and four children. Mark Twain Country is the gateway to Finger Lakes Wine Country
http://www.fingerlakeswinecountry.com/
  a world-class wine region in New York State that boasts excitement, affordability, and fun for everyone.  To download a free travel guide or a full calendar of Twain-themed events in 2010, go to
http://www.marktwaincountry.com/
.  Or call 800.MARK.TWAIN to request a free travel guide be mailed to you.
Contact:
Cynthia Raj
cynthia@chemungchamber.org
800.627.5892