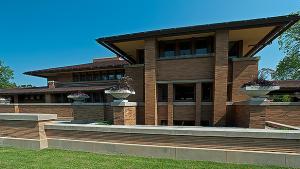 Buffalo, NY - Frank Lloyd Wright's Martin House is pleased to announce plans to reopen for public tours on Thursday, July 16. The site has been closed since mid-March due to the Covid-19 pandemic but is prepared and eager to begin public tours of both the interior and the grounds of the estate.
"We are excited to welcome guests once again to the fully-restored Wright masterpiece," said Executive Director Mary Roberts. "The health and safety of our guests, staff, and volunteers will remain our number one priority, and we will continue to closely adhere to the guidelines and recommendations released by experts."
Both self-guided and private tours will be offered. The self-guided tour experience is scheduled Thursday through Sunday from 11am – 3pm and Monday from 4 - 7pm. Advance tickets are required and available for online purchase at martinhouse.org. Staff and volunteers will closely monitor capacity in each area on the tour to ensure visitors are following safety protocols, including the wearing of face coverings.
For those looking for a docent-led experience, private tours are available for up to eight guests from the same household or social circle. Private tour offerings include a one-hour tour, two-hour tour, and landscape tour of the newly-restored historic grounds of the estate. Private tours can be scheduled Thursday through Sunday at 10am. Interested individuals can email info@martinhouse.org to submit a request. 48-hour advance notice is required at this time.
"Buffalo is home to multiple Wright sites, attracting tourists from around the world," said Roberts. "With many travel restrictions in place, we encourage members of our own community to make plans to experience the Martin House this summer. It's the perfect time to visit with a small group of family or friends."
A public art installation in collaboration with the Albright-Knox Public Art Initiative was also recently completed, providing a free, outdoor experience for people of all ages. Visitors to the grounds will discover seven of world-renowned ceramicist Jun Kaneko's enormous, freestanding ceramic sculptures on display throughout the newly-restored grounds of the Martin House estate, as well as a series of smaller works on view inside the visitor's center.
Visit martinhouse.org for more information about tours and new health & safety guidelines. The Martin House is located at 143 Jewett Parkway in Buffalo. Street parking is available at no cost.
###
ABOUT THE MARTIN HOUSE
Frank Lloyd Wright's Martin House, designed and built from 1903-05, is considered by Wright scholars to be a significant turning point in the evolution of Wright's Prairie house concept. The original estate consisted of the main Martin House, pergola, conservatory and carriage house, the Barton House, and a gardener's cottage, totaling nearly 32,000 square feet. Wright called the Martin House his "opus" and had its plans tacked above his drafting board for decades. Reconstruction of the pergola, conservatory, and carriage house was completed in early 2007 in the most ambitious restoration of demolished Wright buildings to date. The historic Martin House site offers public tours, school programs, community events, event rentals, and a retail store. More information about this National Historic Landmark can be found at www.martinhouse.org.
Contact:
Suzanne Badgley
Marketing Manager
Office: 716.856.3858 x. 211
Cell: 716.418.3302