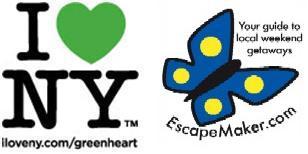 Announcement will be made at "EscapeMaker.com's Green Getaways, Local Food & Travel Expo"
WHAT
:      I LOVE NEW YORK will announce the winner of the 2011 Greenest New Yorker contest at "EscapeMaker.com's Green Getaways, Local Food & Travel Expo." The event will feature more than 60 eco-friendly destinations and lodgings from Vermont to Virginia, plus chocolate, cheese, wine and local food samples. http://www.escapemaker.com/travelexpo   
WHEN
:      Saturday, April 30, 2011 10:30 a.m.  - I LOVE NEW YORK announcement of Greenest New Yorker. *Continental Breakfast sponsored by Red Jacket Orchards and 5th Ave. BID.* 11 a.m. to 5 p.m. - Expo opens to the public.
WHERE
:    Skylight One Hanson, 1 Hanson Place (former Williamsburg Savings Bank Tower), off Flatbush Avenue in Brooklyn.  Take a train to Atlantic Ave, the venue is across the street.
WHO
:         Peter Davidson, Executive Director, Empire State Development, which administers the I LOVE NEW YORK campaign Kaity Tsui, Greenest New Yorker 2010 Caylin Sanders, President & Founder, EscapeMaker.com Carolyn Greer, Director Public Events, Special Projects & Tourism, Office of Brooklyn Borough President Marty Markowitz Chef Matt Weingarten, Inside Park at St. Barts Sheila Guidice, Guest Services and Sales Manager,The Corning Museum of Glass The to-be-announced Greenest New Yorker 2011!
###
Contact
: Lisa Willner (ESD) |
lwillner@empire.state.ny.us
| 1-800-260-7313 Gail M. Donovan (718) 399-2122/(917) 301-5706,
gail@donovancommunications.net
(for press passes)